Wise County Episcopalians and other interested people gathered Thursday March 12 for a second meeting about initiating an Episcopal presence in the area. After lunch at Sweetie Pies Ribeyes restaurant in Decatur, the group took a short field trip of a few b locks to see the historic Episcopal Mission of the Ascension, currently functioning as a wedding chapel.
A Texas State Historical Survey Committee medallion on the front door of the church noted its heritage as an Episcopal mission and as the "oldest original church building in Decatur, consecrated by the great missionary bishop, the Rt. Rev. A.C. Garrett."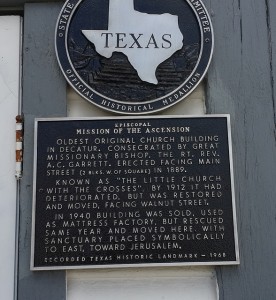 Seeing part of the long Episcopal history in the county provided hope and excitement in contemplating its future. After looking around at the building, the group gathered in the parking lot to say Noonday Prayer.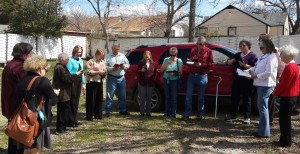 The next step, the group decided, is to begin worshiping together more regularly. "We don't have a plan yet, but we want Christian fellowship," said Jill McClendon, "so we're just going to get started."
Ellen and Mark Whitley will host the group's first Morning Prayer service on Sunday, March 15, at 9:30 am in their home, located at 512 County Road 3737, Bridgeport, TX  76426. Although it is a Bridgeport address, the Whitleys actually live in Boonsville. For more specific directions or to RSVP if you plan to attend, please contact the Whitleys by email at markelle@embarqmail.com
"We look forward to what our Lord has in mind for us," Ellen wrote.
View more photos of the outing in the Wise County Flickr album or read about the first meeting, in February.