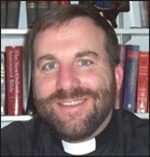 The Rt. Rev. Rayford B. High, Jr., provisional bishop of Fort Worth, will install the Rev. Kevin A. Johnson as priest-in-charge at St. Alban's Episcopal Church meeting in Theatre Arlington, at 7 pm Thursday, June 11, 2015. There will be a reception afterward in the theater lobby.
Johnson grew up in Arlington, was confirmed at St. Alban's, and graduated from Nolan High School. He graduated from the University of Texas, served in the U. S. Army Corps of Engineers, and worked as an assistant professor of ROTC at Texas State University. In 2000 he entered Virginia Theological Seminary. After seminary, he became a curate at St. Francis, San Antonio. In 2007 he became rector of St. Peter's. He and his wife moved to Arlington in April.
Updated to correct date from July 11 to June 11.