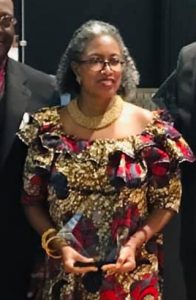 The Rev. Dr. Wil Gafney, professor of Hebrew Bible at Brite Divinity School, was awarded the Anna Julia Haywood Cooper Honor Award on July 25, 2019, from the Union of Black Episcopalians for her scholarship at the organization's recent meeting in Los Angeles.
Gafney is the author of  Womanist Midrash: A Reintroduction to the Women of the Torah and the Throne.  She is the author of Daughters of Miriam: Women Prophets in Ancient Israel and co-editor of The Peoples' Bible and The Peoples' Companion to the Bible. She is an Episcopal priest canonically resident in the Diocese of Pennsylvania and licensed in the Diocese of Fort Worth, where she preaches from time to time at Trinity, Fort Worth. She is a former Army chaplain and congregational pastor in the AME Zion Church. A former member of the Dorshei Derekh Reconstructionist Minyan of the Germantown Jewish Center in Philadelphia, she has co-taught courses with and for the Reconstructionist Rabbinical Seminary in Wyncote, PA.
She is currently on sabbatical working on a new lectionary that centers the voices and stories of women. She will be spending November, 2019, in residence at All Saints Church in Pasadena working on this project.
Anna Julia Haywood Cooper
The woman for whom the award is named is Anna Julia Haywood Cooper, a former slave, educator, advocate and scholor who "courageously and consistently emphasized the importance of education to the future of black people, especially women." The award is to be given to somone, "preferably a woman, who is recognized broadly for scholarship, and/or advocary on  matters of race and gender, especially 'womanism', and the concerns of black women in society and church." Cooper was an author whose first book, A Voice from the South: By a Woman from the South,published in 1892, is considered one of the first articulations of Black Feminism. In 1914, while still teaching full time, she entered the doctoral program at Columbia University, then transferred her credits to the University of Paris (Sorbonne), earning her Ph.D. at age 65 in 1925 with a thesis (written in French) on The Attitude of France on the Question of Slavery Between 1789 and 1848. She was only the fourth African-American woman to earn the Ph.D. degree in any field (the first African-American woman to receive a Ph.D. in mathematics was Euphemia Lofton Haynes, in 1943). She continued to be a strong advocate for women's education and for racial and gender equality for the rest of her life.