Ted Clarkson, a postulant from the Diocese of Fort Worth and a member of All Saints', Fort Worth, was named the recipient of this year's Freeman Award for Merit at the School of Theology, the University of the South at Sewanee.
This award honors a rising middler student who has demonstrated outstanding academic performance and promise. The award was announced by the Rt. Rev. J. Neil Alexander, dean of the School of Theology, and presented by the University's Vice-Chancellor John McCardell. The awards' recipient is decided by the dean and faculty of the School of Theology.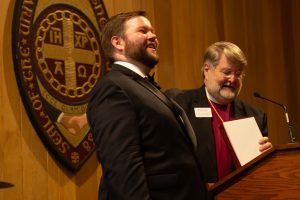 "This award was an unexpected honor, and I am deeply grateful to both the faculty of the School of Theology for their selection and to the Freemans for their generosity. I am also incredibly thankful for my fellow classmates who challenge and inspire me every day."
Clarkson has a strong Sewanee connection. He is the fifth person in three generations to attend the University of the South. A native of Georgia, Clarkson graduated from the Meadows School of the Arts at Southern Methodist University, Dallas, Texas, with a bachelor of music in voice performance. His love of music has come with him to Sewanee as he sings in both the seminary choir and the Schola Cantorum.
Reed Freeman, T'96, T'05, and his wife, Nancy, established the Freeman Award for Merit in 1998. Freeman was a recipient of the Woods Leadership Award while he was attending seminary at the School of Theology.