Sylvia and Tim Stevens, members of St. Christopher Episcopal Church, Fort Worth, have made a generous gift of $240,000 in honor of the Rt. Rev. Rayford B. High, Jr., provisional bishop of the Diocese of Fort Worth from November 2012 to May, 2015. This gift establishes the Bishop Rayford B. High, Jr., Endowment for Administrative Support for the Mission and Outreach Program, the proceeds from which will be used to bolster the mission and outreach efforts of the diocese.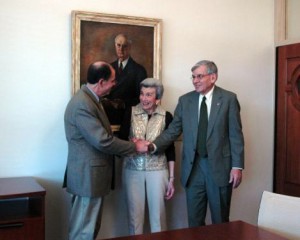 In 2011, diocesan convention affirmed the principle of the tithe. In 2012, convention set the goal of putting 10 percent of the diocesan budget aside for mission and outreach by 2018. That goal was reached right on schedule.
Tim Stevens chaired the Mission and Outreach Committee for several years, retiring last year. But his and Sylvia's passion for outreach has remained, and with this gift, they will enable the diocese to do even more.
Dr. Stevens, a native of Houston, is a graduate of Rice University (BA 1958) and Washington University (St. Louis) School of Medicine (MD 1962) with post graduate training in Internal Medicine at Vanderbilt University Hospital and Cardiology at Baylor College of Medicine. He served in the US Army Medical Corps (1963-65) at Fort McClellan, Alabama. He held staff positions at Ben Taub Hospital, Houston, the Nashville VA Hospital (Chief of Cardiology), was Director of Internal Medicine Education at Brackenridge Hospital, Austin (1975-1992), and several positions at Fort Worth's John Peter Smith Hospital (1992-2000).
Sylvia Metz Stevens was born in Kenedy, Texas, attended Lindenwood College, St. Charles, Missouri, and was a Magna cum Laude graduate of the University of Texas, Austin (BA 1959). She taught in the public schools in University City, Missouri, and Nashville, Tennessee. In Austin she was on the staff at Laguna Gloria Art Museum, served as Curator of Museum Education (1978 – 1992), and filled several roles in art education in Fort Worth, (1992-1999), including faculty in adult education at TCU, teaching Art Appreciation.
Sylvia and Tim have two sons, Matt, a civil engineer in Dallas and Hal, an addiction treatment nurse in Austin. Both sons are married. They have 5 grandchildren. Since 1999, Tim and Sylvia have been active members at St. Christopher.
In addition to this latest generous gift, in 2019, the Stevens made a gift to Brite Divinity School that established the William Taylor Latino/a Ministries Endowment. In 2015 the Stevens also made a gift that completed the endowment for the Rt. Rev. Sam B. Hulsey Chair for Episcopal Studies at Brite.