St. Stephen's in Hurst has installed a Little Free Library. Small boxes of books like this one are part of a world-wide network to promote literacy. They can be found in public places and in front of homes. The network is monitored and publicized by LittleFreeLibrary.org. The idea is to share good things to read. The collection of donated books belongs to everybody. Any passerby is welcome to take a book. It can be returned to any Little Free Library or passed on to a friend. Pay it forward.
The Rev. Bob Gross came to the parish outreach committee last summer with the idea of providing this community service. "We are a welcoming church with lots to offer the community," he said. The committee members immediately jumped on board with their ideas about the best books to make available. "There's a small gazebo in our parking area. It's a great place to sit and read," added one committee member. Enthusiasm for this gift to the neighborhood immediately took root.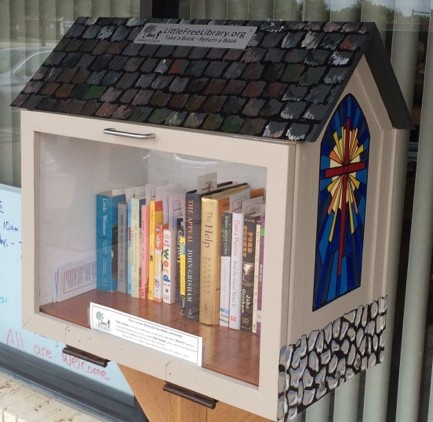 The library box, built and decorated by members of the parish, resembles a classic worship building including rock walls, slate roof and stained glass windows. The red doors symbolize the welcoming Holy Spirit and a place of refuge and safety. It rests on a sturdy foundation on the sidewalk in front of the shopping center church. A clear Plexiglas window protects the books, but it's open 24/7.
The parish hosted a book swap in October; parishioners donated boxes full of books, and the worship space was turned into a wonderful collection of literacy. Community members were welcomed to take or swap free books. At the end of the day there was a great selection from which the new Little Free Library church could be stocked. One volunteer monitors the donations, keeps the box clean and places bookmarks with a welcoming message into each book. In the first week the supply of books was replenished three times, a great start for this outreach project.
Everyone is welcomed to visit (and find a book), to stop by St. Stephen's, at 463 W. Harwood Road, Hurst. The officially chartered Little Free Library appears on the organization's online map.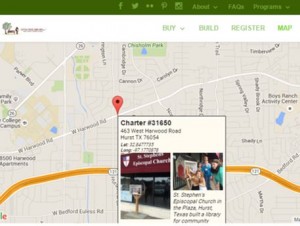 It is regularly stocked with a wide selection of mysteries, classics, kids favorites, and faith building books. There will also be current magazines and cookbooks. People with books to donate should send an email to ststephensec@att.net.