On Sunday, October 5, 2014, the people of St. Mary's are inviting the people of Hamilton County and the people of the diocese to an Open House from 3 to 5 pm. They want to show off their new building and share some food and wine.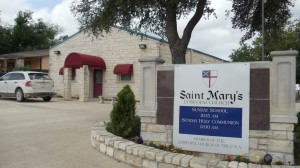 St. Mary's dedicated their new building at 1101 S. Rice Street (Hwy. 281 S.) on Sunday, May 11, 2014.  The new building marked a milestone in the growth of the Episcopal Church in Hamilton County.
The quilt that will be raffled off at the 2014 Diocesan Convention November 14-15 at Globe Life Park in Arlington to benefit the Native American youth of the Episcopal Diocese of South Dakota will be on display at the Open House.