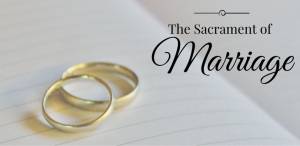 Bishop Mayer on marriage
The Rt. Rev. J. Scott Mayer, bishop of the Episcopal Diocese of Fort Worth, writes about marriage:
Marriage is a sacrament, and as such The Episcopal Church takes it seriously. Historically, Christian marriage is a solemn and public covenant between a man and a woman in the presence of God.

In the summer of 2015, Episcopalians witnessed two momentous decisions about marriage. The first was the Supreme Court ruling on same-sex marriage which affects our civil rights. Then the 78th meeting of the General Convention of The Episcopal Church acted to extend the sacrament of marriage to same-sex couples. This decision was the culmination of forty years of discernment in The Episcopal Church.

The marriage resolutions approved by the General Convention are inclusive of the historic diversity which characterizes our tradition. They give access to marriage liturgies to all couples while protecting the consciences of clergy and bishops who dissent theologically. It has always been true that no priest can be forced to perform any marriage. That remains the case.

I have given permission for the clergy of the Episcopal Diocese of Fort Worth to perform marriage liturgies for same-sex couples. I also have asked them to extend pastoral care and warm hospitality to couples from other dioceses whose bishop disagrees with the decision of General Convention. This hospitality extends to priests of the congregations those couples attend, to the degree their bishop allows.
Marriage is marriage, whether between a man and a woman or between a same-sex couple. It remains a solemn and public covenant between two people in the presence of God. The expectations and requirements are the same for all couples in weddings officiated by the clergy of this diocese.

We are aware of the rich diversity of opinions held on this topic. But always, we are sisters and brothers bound together in the love of Jesus Christ. God loves us all. No exceptions.
FAQs