Educational Resources
Diocesan Library – You are welcome to check out educational resources from the diocesan library, located in the conference room of the diocesan offices. Call 817-534-1900 for more information or to ask whether we have a particular resource you're looking for.
Check out Lesson Plans that Work, an excellent resource of the Episcopal Digital Network.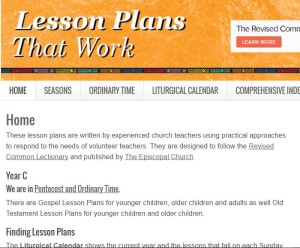 The Episcopal Church website's Library includes a variety of resources in several media. Use the "+Topics" menu to search by topic or look under "Resources" for bulletin inserts, a variety of documents, and links – you can then filter the list by key words to find something you're looking for.
You can also look under the "Ministries" tab to access resources produced by various ministries and departments within the church.
The Society of Saint John the Evangelist has some resources as well.
Resources by Age Group
Please let us know of others you've used that you recommend
Video Resources
Variety of videos, video series, and 'visual liturgy' from 'The Work of the People' site (fee)
Several video curricula in the Diocesan Library
Discovery Series (for adult inquirers)
Nooma videos by Rob Bell – the Diocesan office has 24 videos and a license. "a series of short films that explore our world from a perspective of Jesus. NOOMA is an invitation to search, question, and join the discussion."
Courses, seminars, etc.
Topics for Study
Science and Faith
Sacraments
Episcopal Identity
Dismantling Racism
Seasons of the Church Year
Advent
Christmas, Epiphany
Lent
Easter & Pentecost
Do you want to add meaning and joy to your Advent journey, as you prepare your heart for Christmastide in hopeful expectation? Online resources can provide some inspiration in the midst of your busyness
Watch a video Advent message from Bishop Scott Mayer.
AdventWord from SSJE
AdventWord offers a great way to reflect on one little word each day, and respond with images and prayers that speak to your heart. There are at least four ways you can use AdventWord:
d365.org Daily Devotionals – Following the Star
At d365.org, daily online devotions take on a seasonal theme beginning with first Sunday in Advent on November 29. Following the Star is written for teenage youth and the adults who work with them. Subscribe to the website to receive a daily reminder or download the iTunes app d365 Daily Devotions by Passport, Inc. This service is a collaborative initiative of the Youth Ministries offices of The Episcopal Church, Presbyterian Church USA, and Cooperative Baptist Fellowship.
CandlePress Weekly Calendar
CandlePress.com offers a weekly calendar for families to leave on their table or in a gathering space, with tips for getting started, a story, some things to watch for, and discussion starters.Download and print their 4-page calendar.
Praying in Color Advent Calendars
Praying in Color offers adults and children a way to mark the day-by-day journey to Christmas by daily praying & drawing with a calendar template. The author says, "When I draw, color, and doodle my own Advent calendar, I feel like I'm building something rather than tearing it apart. It is a countup to Christmas, not a countdown. At the end of the 20-some days, the finished Advent calendar is a colorful reminder of what was in my head and on my heart. It is a record of my spiritual journey through Advent." Three calendar templates are offered, along with suggestions for ways to pray with doodling. View and download Praying in Color Advent Calendars.
Black & White Illustrated Advent Devotional Calendar
The annual Advent Devotional Calendar designed by Thomas Mousin and Merry Watters and published on their website is a simple calendar that suggests a scripture reading and devotion for each day of Advent. It's easy to print and use at home.
Episcopal Relief & Development Advent Calendar & Resources
Episcopal Relief & Development has a printable Advent Calendar as part an Advent Toolkit of resources that center around Gifts for Life.
Not quite sure what Advent is? Struggling to explain it?
The video "Advent in 2 Minutes" from bustedhalo.com may be what you need!