This page contains updates about developments related to the coronavirus, how the diocesan leadership is responding, and resources for taking precautions to protect our people, congregations and the wider community.
UPDATED March 15, 2020
UPDATED March 14, 2020
Bishop Scott Mayer calls the diocese into a Lenten Fast from public worship
This story was UPDATED Wednesday, March 11, 2020.
Read a message from Bishop Scott Mayer
Read a message from Presiding Bishop Michael Curry
Read the news release related to a presumptive positive test involving a Fort Worth priest
The Coronavirus
The Center for Disease Control is closely monitoring an outbreak of respiratory illness caused by a new coronavirus. The outbreak first started in Wuhan, China, but cases have been identified in a growing number of other international locations, including the United States.
Here is an in-depth detailed science-based article with everything you need to know about the coronavirus and COVID-19.  It begins with, "How worried should I be? It will be updated each day at 3 pm EDT.
From TIME Magazine:
The World Health Organization (WHO) on March 11 declared COVID-19 a pandemic, pointing to the over 118,000 cases of the coronavirus illness in over 110 countries and territories around the world and the sustained risk of further global spread.
"This is not just a public health crisis, it is a crisis that will touch every sector," said Dr. Tedros Adhanom Ghebreyesus, WHO director-general, at a media briefing. "So every sector and every individual must be involved in the fights."
An epidemic refers to an uptick in the spread of a disease within a specific community. By contrast, the WHO defines a pandemic as global spread of a new disease, though the specific threshold for meeting that criteria is fuzzy. The term is most often applied to new influenza strains, and the CDC says it's used when viruses "are able to infect people easily and spread from person to person in an efficient and sustained way" in multiple regions. The declaration refers to the spread of a disease, rather than the severity of the illness it causes.
From the Texas Tribune, Wednesday, March 11, 2020:
How many people in Texas have coronavirus?
There have been at least 32 confirmed cases of COVID-19, the disease caused by the new coronavirus, in Texas.
Taking sensible precautions makes sense. This page will be updated as new resources are made available.
Watch this five-minute explanation of what the virus is, how it works, what we can do about and how worried we should be by Dr. Peter Lin, family physician in Toronto, Canada.
Resources for congregations and individuals
Should you wear surgical masks? The CDC says  on its website: "CDC does not recommend that people who are well wear a face mask to protect themselves from respiratory diseases."
So if you're not sick, health experts say you don't need to wear a mask, nor do you need to stockpile them. That simply causes shortages for people who do need them.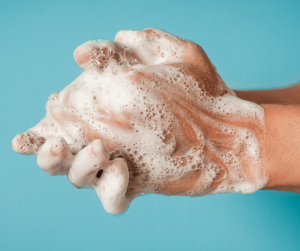 Why all the emphasis on handwashing? It's because soap really is the best weapon and one we all have in our homes. Handwashing is important because coronavirus is an "enveloped" virus, which means that it has an outer lipid membrane layer. That means the virus is surrounded by a fat layer. Washing our hands with soap and water has the ability to dissolve this greasy fatty layer and kill the virus. Source: CDC
Passing the Peace needs to be restrained during this season. Do not shake hands, hug, or kiss if you think you might be sick. It is wise for all to refrain from these kinds of physical contact. Make a slight bow toward one another, simply raise a hand, or gently touch elbows while saying, "The peace of the Lord be with you." Watch a video on how to say "Peace be with you"  and "And also with you" in American Sign Language.
Discontinue the practice of passing the collection plate from person to person. Instead set up collection plates at the entrance to the worship space and remind people to put their donations in as they enter or leave. If you have not already done so, set up online donation capability on your websites and/or Facebook Page.
Lura Steele, program officer, U.S. Disaster Programs, for Episcopal Relief and Development says, "Our role in responding, as churches, dioceses, and compassionate Christians, is to:
Combat fear with knowledge in order to encourage preparedness and decrease stigma.
Maintain operational continuity and continue worship life in the case of potential quarantine and disruption.
Show God's compassion and care to those in our communities who are affected."
Faith-based responses to the COVID-19 from Episcopal Relief and Development.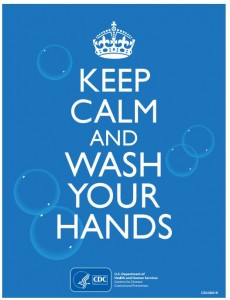 Letter from Bishop Diane Jardin Bruce on precautions to take. Bishop Bruce, suffragan bishop of the Diocese of Los Angeles, writes, "As you may know, I recently returned from nearly two weeks in South Korea and Taiwan. Bishop Taylor asked me to share with colleagues and the whole diocese my experience of how churches close to the epicenter are handling the COVID-19 (coronavirus) outbreak. These are guidelines for us all to follow – at church, at home, and at work — as concern grows about the possibility of further outbreaks in the United States." Her letter is in English and Spanish, and is posted with her permission.
Coronavirus (COVID-19) and the Common Cup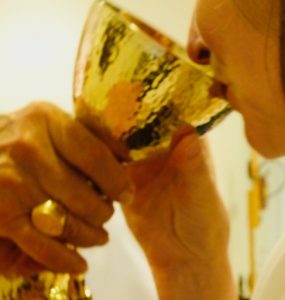 The Rev. David Sibley, rector of  St. Paul's Episcopal Church, Walla Walla, Washington, writes about theuse of the Common Cup during Communion. Before going to seminary, Sibley studied science, earning a  B.S. and M.S. in Chemistry from Furman University in Greenville, South Carolina.
He writes: Invariably, the first question asked of the church in moments like this is:
What about the common cup at the Eucharist?
The simple answer is this – peer reviewed studies and Centers for Disease Control guidance since the 1980s have consistently shown that "no documented transmission of any infectious disease has ever been traced to the use of a common communion cup" and "the risk for infectious disease transmission by a common communion cup is very low, and appropriate safeguards–that is, wiping the interior and exterior rim between communicants, use of care to rotate the cloth during use, and use of a clean cloth for each service – would further diminish this risk." American Journal of Infection Control (Vol. 26, No. 5, 1998).  Read it all .
People with chronic illness that affects the immune system, such as many forms of inflammatory arthritis, are among the people being referred to as being of "higher risk of getting COVID-19".  They are understandably worried about the spread of this new virus. This  story has information on what infectious disease experts and rheumatologists want you to know.
CDC Print resources, including posters
A Guide: Preparing your home for Coronavirus
Get Your Community and Faith-Based Organizations
Ready for Pandemic Flu. This is a booklet the CDC published in 2017 that has much helpful relevant information.
Hygiene Best Practices for Eucharist – from the Episcopal Diocese of New Jersey
Prayer for Preparedness and Response
O God, our times are in your hand.  In the midst of uncertainty lead us by your never-failing grace as we seek to be agents of healing and hope. Walk with us through difficult times; watch over us in danger; and give to us a spirit of love and compassion for those who suffer and mourn. And finally remind us that you have promised never to leave us so that even in the valley of the shadow of death your love may be felt, through Jesus Christ our Lord. AMEN.
— The Rev. Lyndon Harris, from the Episcopal Diocese of New York disaster preparedness plan.