The 2015 Diocesan Convention is November 13-14 at the Botanic Garden Center.
Lay and clergy delegates, non-parochial clergy, guests and vendors can register for convention here. You also can watch a short video about the site and learn other details on that same page.
This year, everyone will register online, including all delegates. But congregations will continue to pay for their delegates registration — an option which appears clearly on the registration form: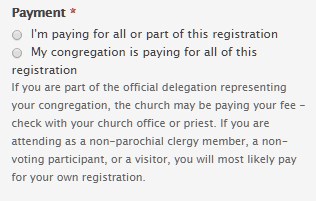 There is a reduced cost if you register prior to October 1. Early registration for two days is $30 and $20 for one day. After October 1, the registration fee is $45 for two days and $30 for one day.
The opening Eucharist will be at 1 pm on Friday, November 13, in Oak Hall at the Botanic Garden Center. The Rt. Rev. Scott Mayer will celebrate and preach.
The first business session begins at 2:45 pm, also in Oak Hall.
After the business session there will be a social hour and some fun and foolishness, and then it's dinner on your own Friday night. The bishop is encouraging delegations to dine together with their clergy.
There will be a workshop with the Rev. Scott Gunn of Forward Movement from 9 to 10:30 am on Saturday. The business session will begin at 10:45 am.. Lunch will be at 12:30 with workshops from 1:45 to 3 pm. The final business session will be from 3:15 to 4:30 pm.