Trinity Episcopal Church, Fort Worth, has adopted a refugee family from the Democratic Republic of Congo. The family fled the violence of warring militia groups, living for years in a refugee camp in Uganda. The family of 10 arrived in Texas in November.
The story said, "The family includes eight siblings ages five to 25 who speak Kinyabwisha and Swahili. The older siblings knew the danger of war as youngsters, while the younger children have only known the hard life of a refugee camp."
Trinity's refugee ministry has three parts —  raise money for the Syrian refugee crisis, write lawmakers, and help a family.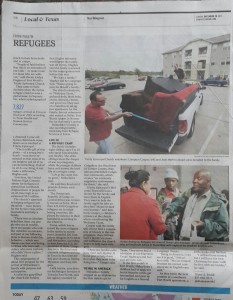 The story quotes the Rev. Carlye Hughes extensively. "There was an absolute belief that there are people who are in trouble, there are people who look like outsiders or outcasts and part of our following Jesus is that we model his behavior — which was always one that was loving to those who were outsiders, who were cast out, who didn't have a place," Hughes said.
Trinity is working with Refugee Services of Texas. The church's Welcome Team furnished two apartments for the family. Several Trinity members greeted the family at DFW Airport upon their arrival. Other volunteers will work with them as they learn English and find jobs. Once this family is establish, Trinity plans to help another family.
Kimberly Cooper, a children's minister at Trinity, coordinates the Welcome Team. The story said, "Cooper said the family will always find a community of friends in the congregation. Once Ntibarikure's family's is more self sufficient, the church hopes to help more refugees."