Bishop C. Wallis Ohl, who served our diocese as provisional bishop from 2009 to 2012, is in the Intensive Care Unit at a hospital in Oklahoma City, OK.  Bishop Scott Mayer got the news Sunday afternoon from the Ohl's daughter.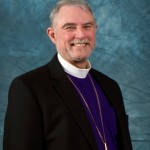 Bishop Mayer requests prayers for Bishop Ohl and his medical care team, and for his wife Sheila and their children and grandchildren as they stand vigil.
Cards can be send to the Ohl's home, 3205 Skye Ridge Drive, Norman, OK, 73069.
Bishop Ohl was Bishop Sam Hulsey's successor in Northwest Texas, and Bishop Mayer's predecessor. He came to us after he retired from that diocese. He was succeeded here by Bishop Rayford B. High, Jr.
For Recovery from Sickness
O God of heavenly powers, by the might of your command
you drive away from our bodies all sickness and all infirmity:
Be present in your goodness with your servant Wallis, that his
weakness may be banished and his strength restored; and that,
his health being renewed, he may bless your holy Name;
through Jesus Christ our Lord.  Amen.
For Doctors and Nurses
Sanctify, O Lord, those whom you have called to the study
and practice of the arts of healing, and to the prevention of
disease and pain. Strengthen them by your life-giving Spirit,
that by their ministries the health of the community may be
promoted and your creation glorified; through Jesus Christ
our Lord.  Amen.