UPDATED  –  In a statement released Monday afternoon, Episcopal Church Presiding Bishop and Primate Michael Curry gave thanks for prayers offered on his behalf:
"Episcopal Church Presiding Bishop and Primate Michael Curry wishes to thank all Episcopalians and others for the generous outpouring of prayer and well wishes in response to his announcement yesterday that he will be undergoing surgery.
"That surgery, originally scheduled for today, is now scheduled for tomorrow (Tuesday).  The postponement is to allow some aspirin he took on Sunday time to clear his system."
————-
Late Sunday night, December 6, the Presiding Bishop's Office announced that Presiding Bishop Curry was taken to a hospital that afternoon after a visitation to Bruton Parish Church in Colonial Williamsburg, VA..
"The Presiding Bishop subsequently was diagnosed with a subdural hematoma, which is bleeding between the brain and the skull, and was transferred to a medical center in Richmond, VA for treatment.   A full recovery is expected."
Bishop Curry created a video from his bed in the hospital. You can see it here.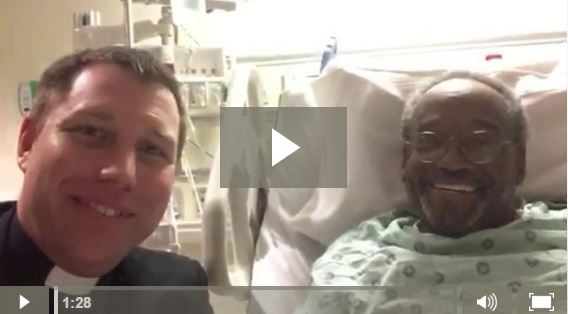 Read a story from Episcopal News Service.
The Rev. Gay Jennings, president of the House of Deputies, sent out a letter informing deputies of the situation and requesting prayers for Bishop Curry, his family, and medical team.
"I spoke with Bishop Curry before he was transferred to the hospital in Richmond, and he assured me that he is in good spirits and confident in the care he is receiving. The Rev. Canon Michael Hunn, canon to the Presiding Bishop for ministry within the Episcopal Church, was with Bishop Curry all day, and reports that he is expected to make a full recovery in a week or so. Mrs. Curry will join her husband in Richmond in the morning," she wrote.
Gracious God, in whom healing and goodness are found: mercifully accept our prayers, and grant to your servant Michael the help of your healing power, that his sickness may be turned into health and  that he may continue in a life of service to you; through Jesus Christ our Lord. Amen