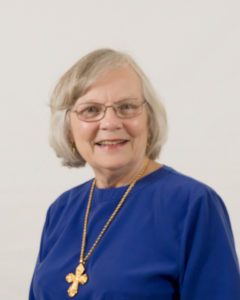 I was born in Kansas City, Mo. and moved to Texas in 1957 with my family; graduated from University of Texas, B.S. Nutrition, 1964; Texas Woman's University, M.S., Nutrition, 1977; Oklahoma State University, Ph.D., Nutrition, 1993. Registered Dietitian 50 years; experience in food service administration, management, health care, school food service and higher education, retired from Tarleton State University after 19 years with the rank of Associate Professor of Nutrition.
I have served as Dean for the Southwest deanery; diocesan convention delegate. Presently, I am President of the Standing Committee; member of Constitution & Canons Committee, Mission & Outreach Committee, and Disciplinary Board.
I am a licensed lay reader and volunteer for the St. Luke's Campus Ministry College Lunch; I take Holy Communion to shut-ins.