The theme for the 2016 Diocesan Convention November 11-12 at All Saints' Episcopal School is On Fire With the Spirit. 
The theme emerged from conversations among Bishop J. Scott Mayer and members of the diocesan staff about exciting and innovative ministries being developed by congregations in the diocese. As they prepared to tell the story of our diocese to members of the Executive Council of The Episcopal Church in February, the sense of the Spirit working in the diocese was palpable. It seemed a natural theme for convention.
In Scripture, the word "spirit" is ru′ach in Hebrew and  pneu′ma in Greek. These words usually refer to God's active force, or Holy Spirit. The Spirit is sometimes called the Breath of God, or described as a wind. On Pentecost the Spirit appeared as tongues of fire. These images strive to capture the essence of the Holy Spirit, something invisible but that also produces visible effects, just a wind or breath is invisible, immaterial, but powerful.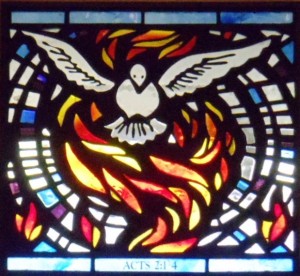 Acts 2:3-4
And there appeared to them tongues as of fire distributing themselves, and they rested on each one of them. And they were all filled with the Holy Spirit and began to speak with other tongues, as the Spirit was giving them utterance.
Isaiah 4:4
When the Lord has washed away the filth of the daughters of Zion and purged the bloodshed of Jerusalem from her midst, by the spirit of judgment and the spirit of burning
Matthew 3:11-12
"As for me, I baptize you with water for repentance, but He who is coming after me is mightier than I, and I am not fit to remove His sandals; He will baptize you with the Holy Spirit and fire. "His winnowing fork is in His hand, and He will thoroughly clear His threshing floor; and He will gather His wheat into the barn, but He will burn up the chaff with unquenchable fire."
Luke 3:16-17
John answered and said to them all, "As for me, I baptize you with water; but One is coming who is mightier than I, and I am not fit to untie the thong of His sandals; He will baptize you with the Holy Spirit and fire. "His winnowing fork is in His hand to thoroughly clear His threshing floor, and to gather the wheat into His barn; but He will burn up the chaff with unquenchable fire."
1 Thessalonians 5:19
Do not quench the Spirit