For more than two decades, worship at All Saints' Episcopal Church in Fort Worth, Texas has been enhanced by the extraordinary artistry of Organist and Choirmaster Rick Grimes. After 64 years as an organist and 24 years at All Saints', Grimes retired from All Saints' on September 9.
The church's beautiful music in the Anglican musical tradition will continue with Grimes' successor, British organist and recording artist Clive Driskill-Smith.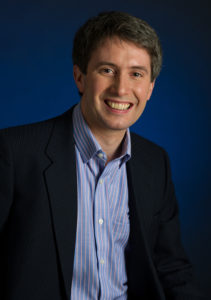 Driskill-Smith played his first Sunday services at All Saints' on Sunday, September 16. He has also played a few recitals at All Saints' over the past several years.  Critics have praised his "blazing technique" and "unbelievable virtuosity" (American Guild of Organists) and described his performances as "intensely moving" and "truly breathtaking" (Organo Pleno, Melbourne).
Born in 1978, Driskill-Smith was awarded the Sheila Mossman Memorial Prize by the Associated Board of the Royal Schools of Music before winning a music scholarship to Eton College in 1990. From 1992 to 1994, he played the bassoon in the National Youth Orchestra of Great Britain and in the National Youth Chamber Orchestra.
After a year as organ scholar at Winchester Cathedral and assistant organist at Winchester College, he went up to Christ Church, Oxford University, as the Christopher Tatton Organ Scholar. While at Christ Church, he was awarded the Associate of the Royal College of Music (ARCM) diploma in piano performance and the Fellow of the Royal College of Organists (FRCO) diploma with the Limpus, Shinn and Durrant Prizes and the Worshipful Company of Musicians' silver medal. He graduated in 1999 with first class honors in music and with the MPhil degree in 2001. A pupil of David Sanger and Hans Fagius, he was awarded a travelling scholarship by the Royal College of Organists in 1999 and the W. T. Best Scholarship by the Worshipful Company of Musicians in 2002; both of these funded further study throughout Europe with Marie-Claire Alain, Guy Bovet, Andrea Marcon, Luigi Tagliavini, and Harald Vogel.
Winner of the Royal College of Organists' Performer of the Year Competition in 2000 and the Calgary International Organ Competition in 2002, Clive regularly performs throughout Europe, North America, Asia and Australia. In the UK he has played at the BBC Proms, the Royal Festival Hall London, Symphony Hall Birmingham, and Bridgewater Hall, Manchester. He has had numerous tours in the U.S. including performances at regional and national conventions of the American Guild of Organists. Clive's duo performances with percussionist Joseph Gramley also captivate and inspire.
His CDs have received critical acclaim. According to reviews in The Organ magazine "his playing is immaculate … the technique is brilliant, the interpretation faultless … a first class recording." His performances have been broadcast on radio and television worldwide.
Recital
Driskill-Smith will play a recital at All Saints' on Friday, October 19 at 7:30 pm. There is no admission charge. This will be an opportunity for the community to meet him and hear his music.
Driskill-Smith will play Fantasia in G major by J.S. Bach, Adagio and Final from Symphony No. 3 by Louis Vierne and Noel Rawsthorne's Hornpipe Humoresque, among other works.