The Rev. Scot McComas has been elected as a member-at-large to serve Province VII.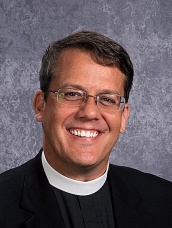 McComas said that he was prompted to let his name stand for election at the provincial level in large part because of his experience serving as a deputy to the General Convention this summer in Austin.
This past summer I attended The General Convention of the Episcopal Church as a first-time deputy and was surprised at how much I loved being a part of the legislative process and becoming a 'policy wonk.

I've always been interested in the structure of the church at a micro and macro level and examining what helps or hinders doing Christ's work in a particular context.

I thought there was no better way to observe how a province does this than from the inside. I look forward to learning and serving our church and diocese as a member-at-large in Province VII.
Province VII election results
The Rev. Scot A. McComas (Diocese of Fort Worth) – Member at Large
Mr. Lee Spence (Diocese of Dallas) – Member at Large
Ms. Andrea Marie Rabalais Petrosh (Diocese of Western Louisiana) – Member at Large
Ms. Jo Ann Rachele (Diocese of North West Texas) – Secretary
The Rev. Jim McDonald (Diocese of Arkansas) – Treasurer
The Rev. Victoria Heard (Diocese of Dallas) – Vice President
The Rt. Rev. Larry Benfield (Diocese of Arkansas) – President