Refresh your spirit and your mind during Lent. Episcopal priest, author and retreat leader the Rev. Martin L. Smith will offer a retreat in our diocese on Saturday, April 1. Smith will lead participants in reflecting on "Who We Really Are: Exploring Our Baptismal Identity."
Thomas Merton reminds us that "in prayer we experience what we already possess. We start where we are and deepen what we have, and we realize we are already there." In this quiet day of reflection and prayer, explore the gift of your baptismal identity, and realize that you are all already 'in the deep end' with God, immersed in the love of the Father, united with the person of Jesus, and bearing the intimate presence of the Spirit. Smith will lead several sessions, and in the intervals will offer guidance for praying and pondering.
Details
Saturday, April 1, 9 am to 3 pm
Trinity Episcopal Church – parish hall
$10 per person, includes a boxed lunch
Register online
Biography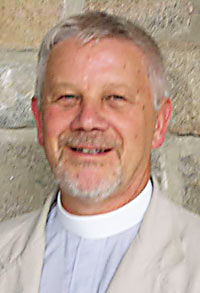 Martin Smith is well known throughout The Episcopal Church as writer, spiritual director, retreat leader, and teacher exploring contemporary spirituality. A priest since 1971, he most recently served as the Senior Associate Rector at St Columba's church in Washington, D.C., in the Diocese of Washington, while continuing to travel widely for his teaching ministry. He retired in July 2012, and continues to devote himself to writing, preaching and the leading of retreats and workshops.

He was born in the northwest of England in 1947 and was trained as a theologian at Oxford University, receiving his BA in 1968 and MA in 1970. After preparing for the priesthood at Cuddesdon College, Oxford he was ordained in the diocese of St Albans, where he served in two parishes before joining the Society of St John the Evangelist, the oldest religious order for men in the Anglican Communion. He served in the community in Oxford until he transferred to the North American branch of the Society in 1979. After completing three terms as Superior, he left the Society in 2002. From 2002-6 he was on the staff of the United States Holocaust Memorial Museum in Washington. He is the author of a number of widely read books exploring contemporary spirituality, including Reconciliation, A Season for the Spirit, the Word is Very Near You, Love Set Free, Compass and Stars, and Go in Peace: the Art of Hearing Confessions (with Julian Gatta).
(Image and bio reprinted with permission from the website of All Saints-by-the-Sea, Southport, Maine)
Directions to Trinity Episcopal Church