The New Life Fund: Growing in New Ways campaign was kicked off by Presiding Bishop Michael Curry at a fundraising dinner Friday, April 7, at Colonial Country Club. More than 160 people attended the dinner.
Watch a video of his spirited address at the dinner below or on YouTube.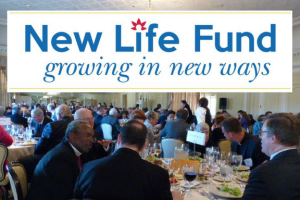 The New Life Fund will raise $200,000 over a two-year-period in matching funds for the $600,000 in grant money from The Episcopal Church. This graphic explains the flow of funds: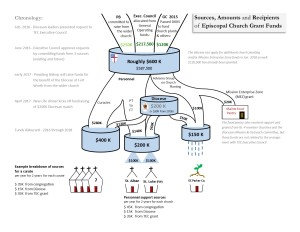 Campaign co-chairs are Mr. John Banks, a member of All Saints', Fort Worth and chair of the diocesan Finance Committee; and the Rev. Jim Hazel, retired priest of the diocese and president of the Corporation. Honorary campaign chairs are Assisting Bishops Rayford B. High, Jr. and Sam Hulsey.
This money will be used to invest in people – clergy and lay leadership – as we plant churches, train new clergy through curacy programs and support congregational growth and outreach such as the 4Saints Episcopal Food Pantry.
On Thursday, April 6, Bishop Curry commissioned and blessed the Parker County church plant team. Read about the church plant and watch a short video of the commissioning.
Also on Thursday, Bishop Curry visited Refugee Services of Texas. Read about that visit.
On Friday, April 7, Bishop Curry and Bishop Scott Mayer began the Learning to Love to Tell the Story conference at St. Christopher with Morning Prayer. After lunch Bishop Curry visited the 4Saints Episcopal Food Pantry. Listen to Bishop Mayer's homily, see photos of the event, and read about and see photos from Bishop Curry's visit to 4Saints.
On Saturday, Bishop Curry preached and celebrated at a festival Eucharist at University Christian Church. He raised the roof with his rousing sermon. See photos of the service and listen to the sermon.