The Rt. Rev. Sam B. Hulsey, assisting bishop of the Episcopal Diocese of Fort Worth, ordained Lynne Waltman to the priesthood at All Saints' Episcopal Church, Fort Worth, on September 14, 2016.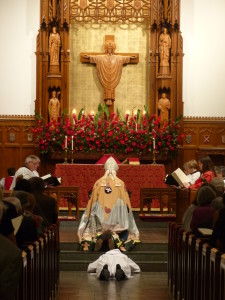 Presenters were the Rev. Christopher Jambor, the Rev. Melanie R. Barbarito, the Rev. J. Frederick Barber, Mr. Edwin Ferree, Mr. Kent Hennng,and Ms. Ann House. Mr. William D. Waltman, III and Ms. Katherine M. Aulman assisted with vesting.
Jambor, rector of All Saints', preached. Watch a video of the sermon on the Diocesan YouTube Channel or click below.
This slideshow requires JavaScript.
The Rev. Waltman celebrated the Eucharist on  at 7 am, Thursday, September 15, in the Chapel of the Annunciation, and at the 5 pm service on Sunday, September 18.
See more photos at the Diocesan Flickr Gallery.
Watch a short video of the evening below or on the Diocesan YouTube Channel.