"I love to tell the story" was the theme of the visit of Presiding Bishop Michael Curry, who calls himself Chief Evangelism Officer of The Episcopal Church.
On Friday, April 7, 2017, Episcopalians gathered at St. Christopher, Fort Worth, to learn to love telling the story. They heard a riveting telling of the Gospel of John from storyteller Kathy Culmer and an inspiring homily from Bishop Scott Mayer at Morning Prayer.
Watch the telling of scripture below or on YouTube.
Watch Bishop Mayer's homily below or on YouTube.
Then the presiding bishop met with laypeople in the sanctuary while the canon to the presiding bishop for ministry within The Episcopal Church, the Rev. Canon Michael Hunn, met with the clergy in the parish hall. After an hour, the two men switched and Curry met with the clergy while Hunn met with the laity. Discussions ranged from ways to tell the story to the difference between an institution and a movement.
This slideshow requires JavaScript.
After lunch, the presiding bishop visited the 4Saints Episcopal Food Pantry, a ministry of St. Luke's in the Meadow, Fort Worth, St. Martin-in-the-Fields, Keller; St. Alban's, Theatre Arlington; and St. Stephen's, Hurst. The pantry is located at St. Luke's, near the diocesan offices in east Fort Worth. Curry toured the pantry, met with volunteers, greeted some clients, and left a blessing on the pantry's comment board. Watch a short video of his arrival on the 4Saints Facebook page.
This slideshow requires JavaScript.
See more photos at the 4Saints Flickr Gallery. 
Meanwhile, back at St. Christopher, Episcopalians were learning to love to tell their personal stories of their faith. Kathy Culmer prepared them with a presentation on story telling, after which, people went to workshops led by Culmer and veteran journalist Bob Ray Sanders. The goal was for everyone to actually find a way to tell their own stories.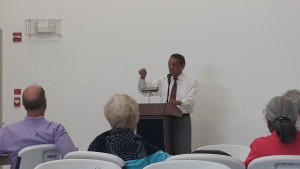 Read some of the statements from Sanders workshop here.Learning to love to tell the story results
See photos of the day's events at St. Christopher in this Flickr photo album. Click or swipe through the gallery.
On Thursday, Bishop Curry commissioned and blessed the Parker County church plant team. Read about the church plant and watch a short video of the commissioning. 
Also on Thursday, Bishop Curry visited Refugee Services of Texas. Read about that visit.
Also on Friday, Bishop Curry kicked off the New Life Fund campaign at a dinner at Colonial Country Club. Read about the campaign and watch a video of his spirited address. 
On Saturday, Bishop Curry preached and celebrated at a festival Eucharist at University Christian Church. He raised the roof with his rousing sermon. See photos of the service and listen to the sermon.