The congregation of St. Alban's Theatre Arlington is inviting everyone to join them for a silent vigil in support of the many people, especially children, who are legally trying to enter this country but who are being kept in confinement in detention centers.
People will meet near the DREAM sculpture at the southwest corner of the intersection of Abram and Pecan streets in Arlington at 8:00 pm on Friday, July 12, 2019. The vigil will last less than 30 minutes. Handheld candles will be supplied. This vigil is part of thousands taking place on five continents and in nearly 600 locations worldwide as part of the Lights for Liberty action between 7 and 9 pm Friday night.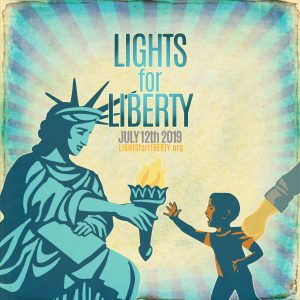 "We are children of the one God who is the Creator of us all," said Presiding Bishop Michael Curry. "It is our sisters, our brothers, our siblings who are seeking protection and asylum, fleeing violence and danger to children, searching for a better life for themselves and their children. The crisis at the border is not simply a challenge of partisan politics but a test of our personal and public morality and human decency."
In a statement released on Monday, July 8, all of the bishops in the six Episcopal dioceses in Texas said, "We call on our state and national leaders to reject fear-based policy-making that targets people who are simply seeking safety, and a chance to live and work in peace. The situation at the border is, by all accounts, a crisis. Refugees come in desperation; border personnel are under stress.
"We call on our leaders to trust in the goodness, generosity and strength of our nation. God has blessed us with great abundance. With it comes the ability and responsibility to bless others.
"We do this because Christians are commanded to love our neighbors as we love ourselves." Read the entire statement.
Here are Episcopal Church resources in response to the crisis on the border.