Want to…
learn skills of the world's oldest profession?
learn how heroes, prophets, artists and nomads can become generous givers?
learn how to stake out part of the 21st Century American religious frontier?
Then sign up for one of the three workshops being offered from 9 to 10:30 am Saturday, November 15 at the 2014 Diocesan Convention at the Jack Daniels Club at Globe Life Park in Arlington. Convention visitors can register here.
The Oldest Profession: In the Beginning was the Word
Want to become effective in sharing your stories and the story of your church from the inside out? Communications has many sizes and shapes within a congregation's ministry. Canon to the Ordinary Kai Ryan and Communication Director Carol Barnwell from the Episcopal Diocese of Texas will share best practices and engaging ideas to reach both your congregation and the community beyond. Focus on the most effective ways to communicate to each of your audiences. Don't hide your light under a bushel any longer!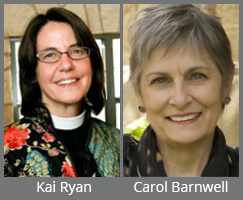 Kai Ryan joined the Diocese of Texas after 20 years in parish ministry in the Dioceses of Dallas and the Central Gulf Coast. For 14 years, she led the multicultural Episcopal Church of the Ascension in Dallas. In the Diocese of Texas, she serves as diocesan transition minister, overseeing clergy transition, and congregations involved in a search process. She also mentors rectors, clergy new to the diocese, bi-vocational priests, transitional deacons, pastoral leaders, pastoral leader interns.
Carol Barnwell is the communication director of the Episcopal Diocese of Texas. She oversees a comprehensive Office of Communications for the diocese and its 151 congregations, manages numerous e-news offerings, the website epicenter.org, is responsible for media relations, and oversees special projects in both print, video and events. Barnwell is past-president of the national Episcopal Communicators association and currently serves on the Advisory Committee for Episcopal Relief and Development's Inspiration Fund. An award winning writer, she holds a degree in journalism from the University of Texas at Austin and a master's in communication from the University of St. Thomas, Houston.
Heroes, Prophets, Artists & Nomads: Not one-size-fits-all anymore
People are living longer active lives, and the economic factors of later generations' formative years have changed their views of giving. One-size-fits-all stewardship won't work anymore. Generational groupings include Heroes, Artists, Prophets, and Nomads, and they all have been formed in different ways and have differing expectations.Yes, we've all been doing the wrong thing very well for a long time, but it's time to change – not because you need to meet a budget, and not because the church needs to survive, but because people are hungry to learn how to be generous. This will be a dialogical workshop, with the Rev. Karl Travis of First Presbyterian Church, Fort Worth, engaging with Robert Biehl of the Episcopal Diocese of Texas.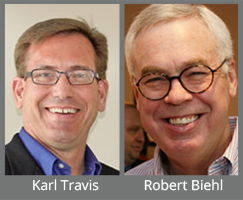 Karl Travis is senior pastor of First Presbyterian Church in Fort Worth, Texas. He is a frequent conference speaker and preacher, particularly in the areas of Christian stewardship and generations' theory.He has served at the presbytery, synod, and General Assembly levels. He serves on the boards of Austin Presbyterian Theological Seminary, the James L. West Alzheimer's Center, Trinity Terrace Retirement Community, and Fort Worth's Presbyterian Night Shelter, which provides emergency shelter to 600 homeless persons every night. Travis grew up in Texas. He is a magna cum laude graduate of Trinity University and the University of Edinburgh, Scotland. He received a Doctorate of Humane Letters from Austin College. Together with his wife Jaci, he parents five children whom he adores, most of the time.
Robert Biehl has served as treasurer of the Episcopal Diocese of Texas since 2007 and previously was the director of foundations. He graduated from Texas Christian University with a BBA in accounting in 1972. He has been a member of the Texas Society of CPA's for more than 40 years and has served on numerous local and statewide committees. He has experience in public accountancy, controllership, personal financial planning and trust matters, having worked as a trust officer with Bank of America for 18 years prior to joining the diocesan staff. Bob also served on the board of the Houston Estate & Financial Forum. Bob and his wife Marilyn are members of St. Martin's Episcopal Church, Houston, and have one grown daughter.
Exploring the 21st Century American Religious Frontier: the Church's New Territory (If we want it)
Dramatic changes in American culture and the response of youth and young adults to the institutional church require new approaches to reach them for the imperatives of the Gospel of Jesus. This workshop will explore this challenge from the perspectives of a research and development project on the outer edges of "next church" and from the established institutional church seeking fresh ways to address these changes. Presenters will be Mary MacGregor and Katie Hays.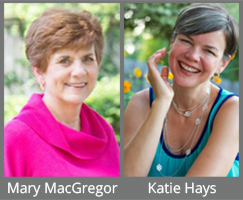 Mary MacGregor is Canon for Evangelism and Congregational Development for the Episcopal Diocese of Texas. She works closely with the bishops and other diocesan staff to assist congregations with developmental challenges. A particular focus of this work is with vestries, lay leaders and search committees of churches who are entering into rector search processes. She oversees the first year post seminary graduation program for clergy called Curate Camp, the professionally facilitated clericus groups, the bi-vocational priest clericus, and the special clergy groups called Redevelopers and First Time in Charge. In addition, she is the Director of the Iona School for Ministry which provides the formal training for deacons and bi-vocational priest candidates in the Diocese of Texas.
Katie Hays went to M.I.T. before she moved on from engineering to theology. She was educated for traditional church ministry at Yale Divinity School and Princeton Theological Seminary. She did traditional church ministry for almost 20 years. Now she's trying something completely different, because she had an epiphany while sprawled on the floor of a Spring Creek BBQ. You can ask her about that when you meet her in person. Hayes is married to Professor Lance Pape at Brite Divinity School. They have two teenaged kids, Lydia and Jack.