All are invited to hear Joan Maxwell talk about her recent memoir, Soul Support: Spiritual Encounters at Life's End at 4 pm, Thursday, November 16, at River Crest Country Club, 1501 Western Ave., Fort Worth, 76107. The event is hosted by Assisting Bishop Sam Hulsey.
Maxwell, a friend of Hulsey who shares his passion for normalizing the fact that we all will die one day, is a former hospital palliative care chaplain who often worked with dying patients and their families. She speaks to the universal experience of death and dying.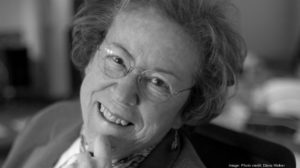 One review of Soul Support said, "Soul Support tells intimate true stories of people coming to terms with their final days, and offers stirring behind-the-scenes accounts of the many ways patients, their families and friends, and hospital staff all deal with death and dying.  This compelling memoir by hospital chaplain Joan Paddock Maxwell speaks to readers reflecting on their own mortality or the life-threatening illness of a loved one, and tells of the sometimes-astonishing events that can occur when people near their lives' ends."
Today, when life's inevitable end is often hidden and denied, Maxwell breaks open closed doors by sharing what she learned from her patients during 12 years as a hospital chaplain
Her passionate and poetic presentation, often infused with humor, provides helpful, practical information for those facing the life- threatening illness of a loved one. She provides  concepts and tools that help families and friends be more present to their loved ones, providing hope and peace as they approach death.
Maxwell also will be speaking at 1 pm Tuesday, November 14, at Saint Michael and All Angels Episcopal Church, 8011 Douglas Avenue, Dallas, TX.
Joan Paddock Maxwell was trained and served as a chaplain in three acute-care hospitals in the Washington, DC area. During six years as palliative care chaplain, she served patients with life-threatening illnesses. The co-author of two previously published books, she received a Master of Theological Studies from Wesley Theological Seminary and was endorsed as a hospital chaplain by The Episcopal Church. She lives in Washington, DC and Deer Isle, ME with her husband David.