Many of us have family and friends displaced and experiencing damage from the wind and continuing flooding from Hurricane Harvey. Below are some sources of information and ways to begin helping. Please donate and volunteer as you are able, but before you do so, please read the information below. Visit our diocesan disaster resources page for additional links and information.
Bishop Scott Mayer statement
Bishop Scott Mayer has issued a statement that concludes with this prayer:
"May God hold close all who have died, all the people suffering from this storm, and all the people working to help them. 'Tend the sick, Lord Christ; give rest to the weary, bless the dying, soothe the suffering, pity the afflicted, shield the joyous; and all for your love's sake.' Amen."
Read the complete statement here.
Before you donate, read this
The Rev. Sharon Alexander, rector of Trinity Episcopal Church, Baton Rouge, and her congregation have learned a lot about helping after hurricanes and flooding. She compiled of list of things to consider before you begin cleaning out your closet and opening your wallet to donate. Helping After Harvey
Helping in Fort Worth
On Monday, August 28, the City of Fort Worth opened three emergency shelters across the city in response to the STAR (State of Texas Assistance Request) request from the state. Shelters anticipate the first round of evacuees to arrive on Tuesday, Aug. 29. Evacuees will arrive by bus, and will be routed through Wilkerson-Greines Athletic Center, 5201 Ca Robertson Blvd., to other local shelters managed by the City of Fort Worth and the Red Cross.
The city asks: "Please do not take donated items to shelters, as they do not have the staffing or storage to support such donations. People in the Dallas/Fort Worth area who want to donate new/gently used clothing, toiletries and nonperishables can drop them off at Trusted World, 15660 N. Dallas Parkway, Dallas, TX 75248, from 8 a.m.-6 p.m. daily. When specific donations are needed, that request will be shared."
"Those interested in volunteering to help those affected by Hurricane Harvey can register online with Mass Care Task Force."
Please don't just show up to volunteer. Sign up and wait to contacted about where you are needed. This allows volunteers to be useful in the most effective way.
Read more here.
Helping the Humane Society
Animals also are being evacuated in the wake of Harvey. The Humane Society of North Texas needs:
Cat litter
litter boxes
towels
blankets
treats
toys
newspapers
Food – Gift cards are preferred. Financial contribution be made through their website. They also have a "wish list" of items they always need.
Episcopal Relief & Development
Episcopal Relief & Development has four core areas of assistance, serving people around the world; one of those four areas is responding to disasters. Here are ways to help:
Neighboring Dioceses
Our neighbors in the dioceses of Texas and West Texas have been severely affected by Harvey, which is a more devastating storm than most people anticipated. As the rains continue, the links below provide more information and opportunities to assist those near us.
Diocese of Texas
Episcopal churches and organizations you might consider helping directly:
Diocese of West Texas
Storm Imagery
Updated satellite images from NOAA – zoom in for detail on the flooded areas: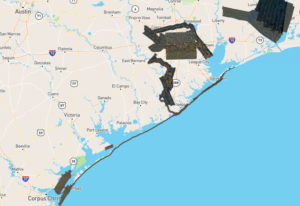 This page will be updated as more information becomes available.