The Episcopal Church of the Good Shepherd in Granbury will consecrate its new space at 4530 Acton Road, Granbury, at 6 pm Saturday, September 28, 2019. The Rt. Rev. Rayford B. High, Jr., will officiate. The Rev. Dr. Suzi Robertson, priest in charge, will preach. A reception will follow. The new space was built and is owned by the Episcopal Community Trust of Granbury.
All are welcome. Child care will be provided. Clergy are requested to wear cassock, surplice, and white stoles.
The Good Shepherd Window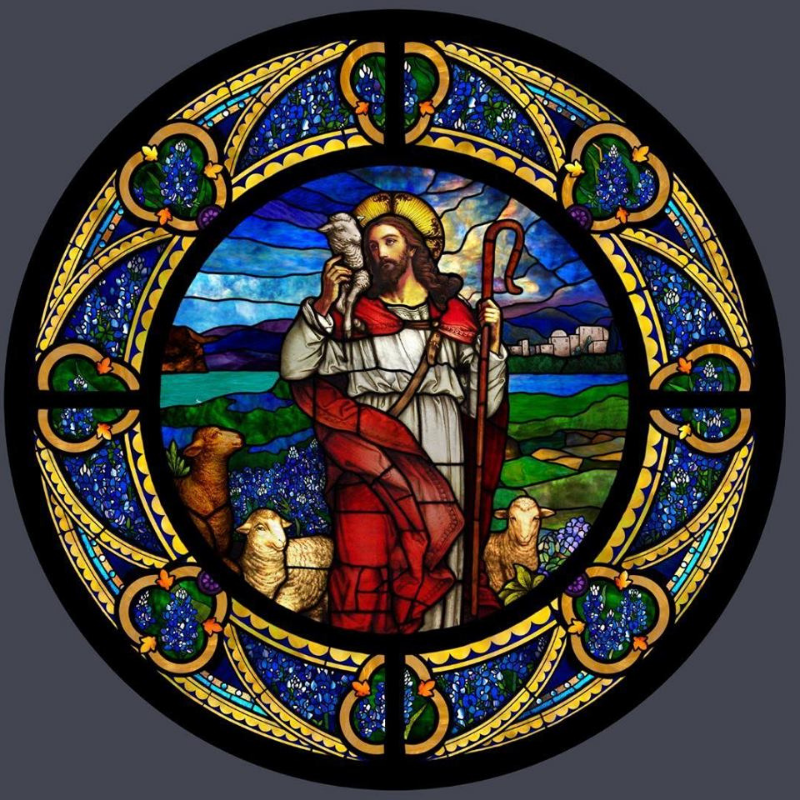 The Good Shepherd window was designed especially for the location, showing Jesus standing amidst Texas bluebonnets with Granbury Lake and the Comanche Peak Nuclear Power Plant in the background.
The congregation is grateful for the hospitality of the Seventh Day Adventists, who gave them a home in which to worship and grow their ministries since 2011. This move to the new building will accommodate the continuing growth of the congregation and its increasing outreach and ministries in the Granbury community.
Loving crafted fittings
The new space is outfitted with handcrafted woodwork, neo-Gothic furniture and fixtures, lovingly made more than 100 years ago. They were crafted for the "new" church – built in 1876 – of the Plymouth Methodist Episcopal Church, which was founded in 1794 in Plymouth, Pennsylvania. During those prosperous years the church boasted more than 800 members. But changing times, economic hardship, and migrating populations caused the grand old church to close its doors some 15 years ago. Now the furnishings are finding vibrant new life with this growing congregation in Granbury.
Good Shepherd Sunday services are at 9:30 am.