On Wednesday, December 16, Hood County Christmas for Children distributed toys, books, bikes, beds, clothes and other gifts to more than 2,000 families. The members of the Episcopal Church of the Good Shepherd, Granbury support the highly-organized effort each year, donating gifts, volunteering to pack and organize gifts, and helping all day during distribution. Above, Barbara Snyder stands amid bags of gifts ready for distribution.
Norm Snyder, Vice President of the organization and a member at Good Shepherd, has been volunteering for eight years and explained how the operation works.
The gifts are for children living in Hood County, which is the third smallest county in Texas. Approximately 50% of children in Hood County receive lunch assistance at school. The schools refer many of the families; some applications come from Mission Granbury and other local agencies. Sometimes, in listing items requested for each child, there is a request for a bed, a coat, or some other necessity. "If a kid puts a bed on the list, for instance, we call to ask where they're sleeping," Snyder explained, "and if they're sleeping on a couch or something like that, we will make sure they have a bed." Once necessities are taken care of, a tag is created for each child, listing their age and three items they would like for Christmas.
Tags go up on Angel Trees around Granbury. Fewer than 20% of the tags are "adopted" by individuals in the community, however, Christmas for Children responds to the other 80%. One side of the show barn has long rows of tables holding clothes, toys, books, and other items organized by age, and volunteers "shop" for each child, picking items that the child requested and other appropriate gifts. This year, middle school members of the National Junior Honor Society helped as shoppers. A group of quality control volunteers checks each bag of gifts to make sure there are enough gifts and that they are appropriate. Sometimes shoppers misunderstand a child's request or put in items that don't fit the child's age.
On bike assembly day, volunteers who are mechanically inclined – including the entire staff of one mechanic business – put hundreds of bikes together and check them over so they're ready to roll on distribution day.
A large space is needed to organize the gifts; for the last few years, they've used the Curtis Cleveland Show Barn. This year, one of the volunteers had a creative solution for covering the dirt floor so the gifts would not get dusty: used billboards!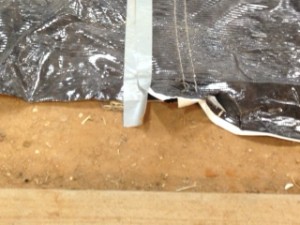 A large percentage of the members at Good Shepherd volunteer in one way or another with Christmas for Children. Check out some photos the Rev. Suzi Robertson posted on their facebook page.
Our bishops have been involved, too. Bishop Mayer visited the operation last week, donating $1,500 from his discretionary fund to support the project. Bishop High visited in 2014.