All Saints' Episcopal Church is holding some unique events over the next couple of weeks.
Garden Blessing
Friday, October 21, at "Twilight in the Garden," Bishop Sam Hulsey will bless the church garden, located across the street from the church. The event is from 6 to 8 pm, hosted by the Women of All Saints and the Men's Fellowship.
English Feast and Silent Auction
On Saturday, October 22 at 7 pm, the church will host a traditional English feast and a silent auction. Proceeds benefit the youth participating in the All Saints' 2017 Journey 2 Adulthood (J2A) confirmation pilgrimage to Canterbury Cathedral in England.
Tickets will be available at the door as space permits for $30 – or $40 with wine service. Silent auction items include tickets to a Dallas Cowboys luxury suite, Dallas Mavericks tickets, and more.
The Rev. Jordan Haynie Ware explains a little more about the significance of the pilgrimage in the Journey 2 Adulthood program:
The J2A pilgrimage is the capstone of our youth confirmation program. Youth in 9th and 10th grades make their adult profession of faith, then seal their commitment by giving a week of their summer to journey to Canterbury Cathedral, "mother's kitchen" of the Episcopal faith. A pilgrimage isn't a tourist vacation or a chance to see the sights, it is a physical and spiritual journey to a place where God has been found before. Pilgrimages help connect us with the communion of saints who have gone before, as we journey to historical sites. They also help us bond with the Church throughout the world – especially in Canterbury, where Anglicans and Episcopalians from South Africa, Pakistan, New Zealand, Canada, and more gather for community, prayer, and study. All Saints' J2A pilgrimages enrich the spiritual lives of our youth, and serve as their threshold to Christian adulthood, an anchor for their faith as they transition from home to college and the working world.

Sunday, October 23
Would you like to learn more about other religious traditions? Dina Malki has a master's degree in Islamic Studies and Christian-Muslim Relations from Hartford Seminary and will present the second of a four-part series on Islam, "The Other Faith in Your Neighborhood." The presentation has been the topic of All Saints' Adult Forum at 10:10 am in DeWolfe Hall last Sunday, this Sunday and for the next two Sundays.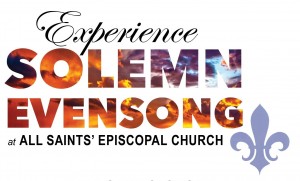 Sunday, October 23, join the All Saints' choir for the beautiful choral tradition of Solemn Evensong at 6 pm.
Christmas Boutique & Luncheon
Enjoy two days of holiday shopping and lunch at St. Anne's Christmas Boutique and Luncheon, November 4 and 5 at All Saints'.
The event includes book signings by Marty Norman, author of A Walk with the Saviour, and Trisha Bridges. Boutique merchandise includes collectible Santa figures by Karen Didion, handmade jewelry by Alice Hanson, pearl jewelry from The Pearl Girls, Fair Trade artisan-made items, plus cards, nativities, ornaments and many gifts.
Holiday shopping hours are 9:00 a.m. to 2:00 p.m. on Friday and Saturday, Nov. 4 and 5. There is no admission charge for the boutique. Lunch will be served for $10 between the hours of 11:00 a.m. and 2:00 p.m. Event proceeds benefit Christian Education projects supported by St. Anne's Guild at All Saints'.
Directions