by Rayford B. High, Jr.
I don't know about you, but it seems to me that 2015 is moving along very quickly.
Ash Wednesday is February 18!  Lent, with all its blessings, is upon us.
Over my years in ministry, I have found spiritual growth and value in using Lent to spend less time worrying about me and instead focusing on others, especially those who have not been given the opportunities I have as an Episcopalian in this country. How about instead of giving up something, think about taking on something, such giving to some ministry or group who is making a difference in the lives of those less fortunate?
Here's one suggestion – the 2009 General Convention designated Lent as a time to encourage the church "to remember and support the life-saving work of Episcopal Relief & Development (ERD)."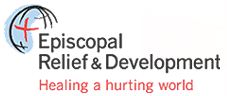 The first Sunday in Lent is the "official" day, but certainly congregations may observe Episcopal Relief & Development Day on any Sunday during the Lenten season, or indeed, any Sunday of the year.
You can order the 2015 Lenten Meditation booklets at episcopalrelief.org/lent or by calling 1-866-937-2772. You also can sign up to receive daily meditations by email.
This year's meditations were written by a diverse group of Episcopal Church and Anglican Communion leaders and focus on the five "I Believe" statements at the core of ERD's 75th Anniversary efforts:
I believe that everyone should have access to clean water.
I believe that no one should go hungry.
I believe that all children and families deserve a healthy start in life.
I believe that no one should live in poverty.
I believe that together we can heal a hurting world. 
These five 'I Believe' statements describe ERD's commitment to those living without the basics for life. Lent can be a time for us in our diocese to reflect on Jesus' call in Matthew 25 to care for those in need. How can our lives mirror the teachings of Jesus? Our congregations are doing excellent outreach in their neighborhoods – and some far beyond their neighborhoods. ERD further connects us to needs beyond our borders and offers us the opportunity to engage with the work of easing those needs in a deeper way.
I urge our congregations to consider joining with others across The Episcopal Church for Episcopal Relief & Development Sunday. On that day, Episcopalians are invited to pray for those living in poverty and dedicate a special offering for where help is most needed, through ERD's 75th Anniversary Fund. And let the Rev. Janet Nocher, diocesan ERD coordinator, know about your plans.
Most of all, my prayer is that all of us will find a way to observe a holy Lent, both in our hearts and in the wider world.
Observe Lent in our hearts and in the world.