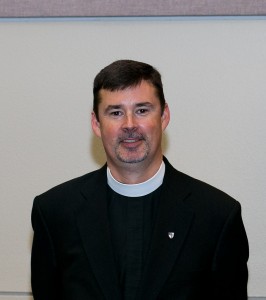 Beginning on Sunday, June 8, the Rev. Curt Norman, rector of St. Luke's Episcopal Church and pastor of Common Grace Lutheran Church in Stephenville, will travel to Comanche on every second Sunday of the month to lead a communion/healing service at Hope Lutheran Church in Comanche. Hope Lutheran is part of the Evangelical Lutheran Church in America (ELCA) Comanche is a 30-minute drive southwest of Stephenville and slightly more than a two-hour drive from Fort Worth.
A story in the Comanche Chief announced that Hope Lutheran is adding "two worship services a month to facilitate Christians who were nurtured in the liturgical services of the ELCA, Episcopal Church, Disciples of Christ, or other institutions in common communion with the ELCA to receive the sacrament of communion while sharing in worship and fellowship in the community of Christians."
On each second Sunday, Norman will lead a worship service with communion and a healing service at 6:45 p.m. following a soup supper at 6:00 p.m. On the fourth Saturday of the month the supper will be at 6:00 p.m. with the service at 6:45 p.m. That service will be led by a member of Hope Lutheran.
Common Grace Chapel is a joint mission endeavor of St. Luke's Episcopal Church in Stephenville, Texas, and the Northern Texas – Northern Louisiana Mission Area of the Evangelical Lutheran Church in America (ELCA) that began August 18, 2013.  Common Grace meets each Wednesday at 6 pm for healing prayers, communion and dinner on the St. Luke's campus, which is right across the street from Tarleton State University.
The Episcopal Church and the ELCA have been in full communion since 1999.