Diocesan Convention
Friday, November 10 – Saturday, November 11, 2017
This page will be updated in the months leading up to Convention – check back periodically.
Resolutions
The following topics customarily involve a resolution at Convention.
Approval of 2018 and Triennial Budget
Approval of 2018 Table of Assessments
Approval of 2018 Convention site
Resolutions as needed from the Constitution and Canons Committee
Other resolutions may be submitted as well. See "Submission deadlines and templates" above for more details, but here are the main deadlines:
August 12 for proposers not on the Constitution & Canons Committee to submit proposed changes to the Constitution or Canons
September 11 to submit other resolutions
Once the Resolutions Committee and the Constitution and Canons Committee review proposed resolutions and have a chance to communicate with the proposer about any questions or changes, the proposed resolutions will be linked here.
Reports
As reports are received, they'll be formatted and published in PDF format:
Nominations and Elections
There are eight (8) positions open for nomination at the 2017 Convention. The Nominations Committee earnestly seeks participation from parishioners across the spectrum of the diocese and has a goal to receive nominations for at least two candidates per position.
Read about the open positions and submit nominations here.
Maps
View a map with nearby hotels marked. Options closest to the venue include:
Hampton Inn at Convention Center, Cleburne
La Quinta, Cleburne
Holiday Inn Express, Cleburne
View or print a map of the facility: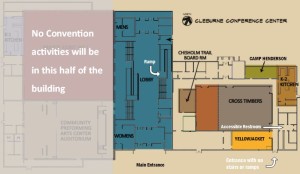 Links to previous years' convention material