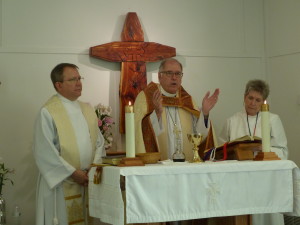 On Sunday, November 13, 2016, Bishop Scott Mayer dedicated and consecrated the historic Episcopal Mission of the Ascension, home of the Episcopal Church in Wise County. The congregation has been worshiping there since May 17, 2015. Felicity Hollister also reaffirmed her baptismal vows.
The church was started as the Episcopal Mission of the Ascension in 1889 by the Rt. Rev. A. C. Garrett, noted missionary bishop of northern Texas. The small white building at 905 S. Church Street in Decatur had been operating as a wedding chapel in recent years. It was designated a Texas Historic Landmark in 1968 and a plaque on the building records its peripatetic history.
It was originally erected facing Main Street in 1889, and was known as the "little church with the crosses." By 1912 it was deteriorating. When it was restored it was moved to a location facing Walnut Street. In 1940, the building was sold and used as a mattress factory. But that same year it was rescued and moved to its current location on Church Street, placed with its sanctuary facing east, toward Jerusalem.
The building was deconsecrated when it was used as a mattress factory. With this service it has come full circle and is once again serving as home for a new church plant. Somewhere, Bishop Garrett was smiling.
Ms. Jill McClendon reported on diocesan convention, at which she was elected trustee to the Univerity of the South, and the Rev. Tony Hiatt, priest in charge, was elected first clergy alternate to General Convention. See all election results.
She also showed off her paper mitre from the Friday night foolishness, and explained that it was the mitre of the Wasp of the Resurrection. She explained that when they moved in, the building was infested with wasps, which they had removed. Twice. But no matter. Every Sunday there is always one or two wasps. They kill them and dispose ot the bodies. And the next Sunday, the wasps are back. So they've started calling them resurrection wasps.
 See more photos in the Flickr Gallery.