The Fort Worth Diocesan Assembly of the Daughters of the King will be from 9 am to noon on Saturday, October 26, 2019 at St. Christopher Episcopal Church, 3550 SW Loop 820 South, Fort Worth, 76133.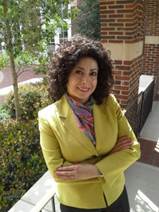 The guest speaker is the Rev. Dr. Samira Izadi Page. She was born in Shiraz, Iran, and now lives in Dallas.  She is an Episcopal priest in the Diocese of Dallas, and founder and executive director of Gateway of Grace. Gateway of Grace's mission is to integrate and empower refugees to become productive members of society by mobilizing the Church and building Christ-centered relationships. Not only is her personal story compelling, but the ministry Gateway of Grace provides is especially powerful.  www.gatewayofgrace.org
The assembly is hosted by St. Elisabeth of Portugal Chapter and the St. Mary Junior Chapter.  Please RSVP by October 18 to Marti Fagley at 817.637.1820 or mfagley@aol.com or    Cynthia Eichenberger at 817.523.3079 or nanacici@sbcglobal.net.
Guests are welcome.
Schedule
9:00 am – Gather, coffee/tea
9:30 am -Holy Eucharist, theRev. William P. Stanford officiating (an offering will be taken)
10:00 a.m. Guest Speaker, the Rev. Dr. Samira Izadi Page
11:00 a.m. Business Meeting & Election of Officers: President, Vice President, Secretary/Treasurer
Installation of Officers
Lunch