The Rev. Canon Janet Waggoner is among the candidates for the 4th bishop of the Episcopal Diocese of El Camino Real in California.
The 5-person slate was announced on Saturday, March 9, 2019, by the Standing Committee of the Episcopal Diocese of El Camino Real in California. With this announcement, the Standing Committee also opened a seven-day petition period during which additional candidates may come forward. Completed petitions and backup material must be submitted by March 16, 2019, by midnight Pacific Standard Time.
The electing convention will be held on Saturday, June 1, 2019, at St. Andrew's Episcopal Church in Saratoga. The ordination and consecration will take place January 11, 2020. Read the diocesan profile.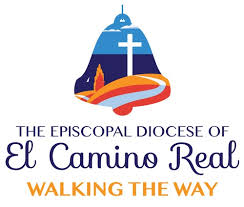 Waggoner said, "I am honored and delighted to be invited to be a candidate for election in the Diocese of El Camino Real. In this season of discernment for me, I am humbled to accept yet another opportunity to be in conversation with a diocese about whom they will call as their next bishop. I sense the Holy Spirit stirring in my life and in our Church. I look forward to continuing in this discernment process in El Camino Real, and I trust that God will guide us all."
Read her complete biography and answers to the search committee's questions here.
Bishop Scott Mayer said, "Once again, the Church has encouraged and invited Canon Waggoner to explore a call to serve as bishop, recognizing her gifts and experience. Please hold Janet, her family, and the Diocese of El Camino Real in your prayers during this upcoming period of discernment. And may God's will be done."
The other candidates are:
Read more at the Diocese of El Camino Real
Waggoner is the second woman priest from this diocese to be part of an episcopal election since 2018. The Rev. Carlye Hughes, rector of Trinity Episcopal Church, was elected bishop of the Diocese of Newark in May and consecrated in September. Waggoner also was on the slate for bishop of Maine, where Thomas Brown was elected.
TIMELINE
According to the Diocese of El Camino Real website, significant points on the timeline of this process include:
March 16, 2019 – Completed petitions and backup material must be submitted by midnight Pacific Standard Time.
May 5-May 10, 2019 – The clergy and people of El Camino Real will have an opportunity to meet the candidates (known as a walkabout) in all three deaneries. Dates for the walkabouts and locations will be announced later this month.
June 1, 2019 —Election of 4th bishop of El Camino Real
June – August, 2019 — Consents are obtained from Standing Committees of the majority of dioceses of The Episcopal Church.
January 11, 2020 — Consecration of the new bishop
Waggoner's biography
Waggoner was named Canon to the Ordinary by Bishop Rayford High in May 2013. She received her MDiv from Yale Divinity School and served parishes in Connecticut for more than a decade. She and her family moved to Fort Worth in August 2012 when her husband, Dr. Ed Waggoner, accepted Brite Divinity School's invitation to become the first Right Rev. Sam B. Hulsey Chair in Episcopal Studies. Prior to being named canon, Waggoner served as Interim Pastor at Rejoice Lutheran Church, Coppell.
In her work with individuals, congregations and the community, Waggoner seeks to facilitate transformation through leadership, preaching, education, conciliation and the arts. She is a board member of WIKS-USA, partnering with Kenyans to provide quality education for underprivileged children. She also serves as an Academy 4 mentor for 4th graders in a local public school with a targeted improvement plan. Waggoner is a clergy coach, as well as an Advisor in Title IV disciplinary processes in The Episcopal Church. She is a long-time member of the Society of the Companions of the Holy Cross, an Episcopal women's group committed to intercessory prayer, social justice, and simplicity of life. Waggoner is the chair of the church-wide Task Force on Church Planting and Congregational Development.
A student at Brite Divinity School, Waggoner is in the final project phase of a DMin in Transforming Practices: Spirituality, Leadership and Justice.
She and her husband are the parents of two children, Wynne, 16, and Benjamin, 13. Their household also includes a 4 year-old rescue dog named Comet.