Bishop Scott Mayer's visitations in the last six months have been to three different parishes that reflect the variety and diversity of the worship experience and congregations in the diocese.
St. Alban's worships in Theatre Arlington, which makes it unusual right off the bat, and means the backdrop to its altar changes regularly — depending on the play being presented. Trinity worships in its historic building, which grounds it in tradition while creating a stable space for trying new things, such as commissioning a requiem mass. And St. Luke's, Stephenville, is directly across the street from Tarleton State University, making it a natural place to grow a college ministry rooted in unconditional welome that also addesses food insecurity among college students.
On May 19, Bishop Mayer confirmed nine people and received five at St. Alban's. On June 30, he confirmed one person and received three more at Trinity, Fort Worth. That day the parish also said its farewells to the Rev. Andrew Wright, who was leaving to become the canon to the ordinary for Bishop Carlye Hughes of the Diocese of Newark. And on September 8, Bishop Mayer received five people at St. Luke's, Stephenville.
St. Luke's, Stephenville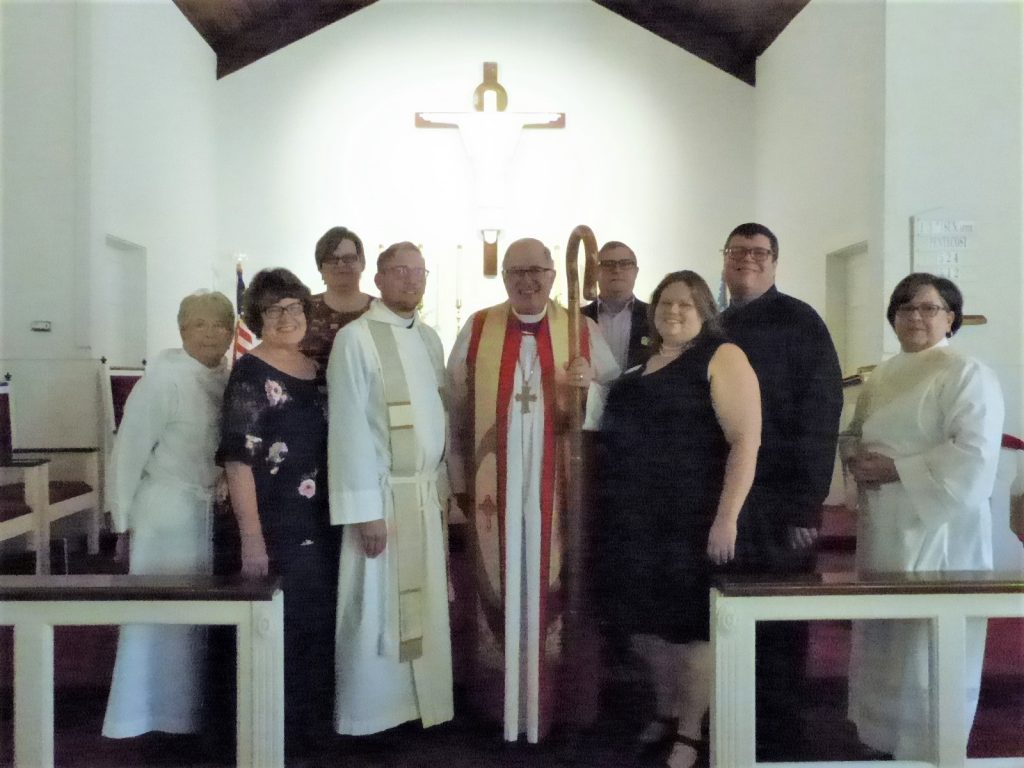 At St. Luke's, Stephenville, he received Karen Lucy Aho, Karl Michael Fraedrick Aho,  Renee Elizabeth Barlow, Elizabeth Volkart Mewhinny, and Robi Don Rhea.
In his sermon, Bishop Mayer talked about a chain reaction of love: "I'm mindful of one of my favorite theologians, a contemplative named Beatrice Bruneau.  Dr. Bruneau makes the following observation:  she claims that the human energy in any person is activated when that person is loved personally by another person.  When you are loved by another person, the energy in you to love others is activated.
The lack of energy to love others, she says, is a result of spending our energy on protecting ourselves, defending ourselves, augmenting ourselves, and justifying ourselves out of fear and insecurity.  And as we protect, defend, augment, and justify ourselves we actually reinforce the fears and insecurities of others.  And then they do the same to others.  Bruneau calls this a "chain reaction."
"To break the chain-reaction, she says, someone is needed who can enable others to experience themselves as worthy, valuable, secure.  Someone is needed to show personal love.
"And once the one "loved" accepts and is convinced of this love – once we are convinced of this love – we will experience security, and we will be liberated to love others.  And another, different chain-reaction is started.  The other chain-reaction is reversed.  Energy once used to defend, protect, augment, and justify is now activated to love."
Listen to a podcast and/or read the text of the bishop's sermon.
See more photos at the diocesan Flickr gallery
Trinity, Fort Worth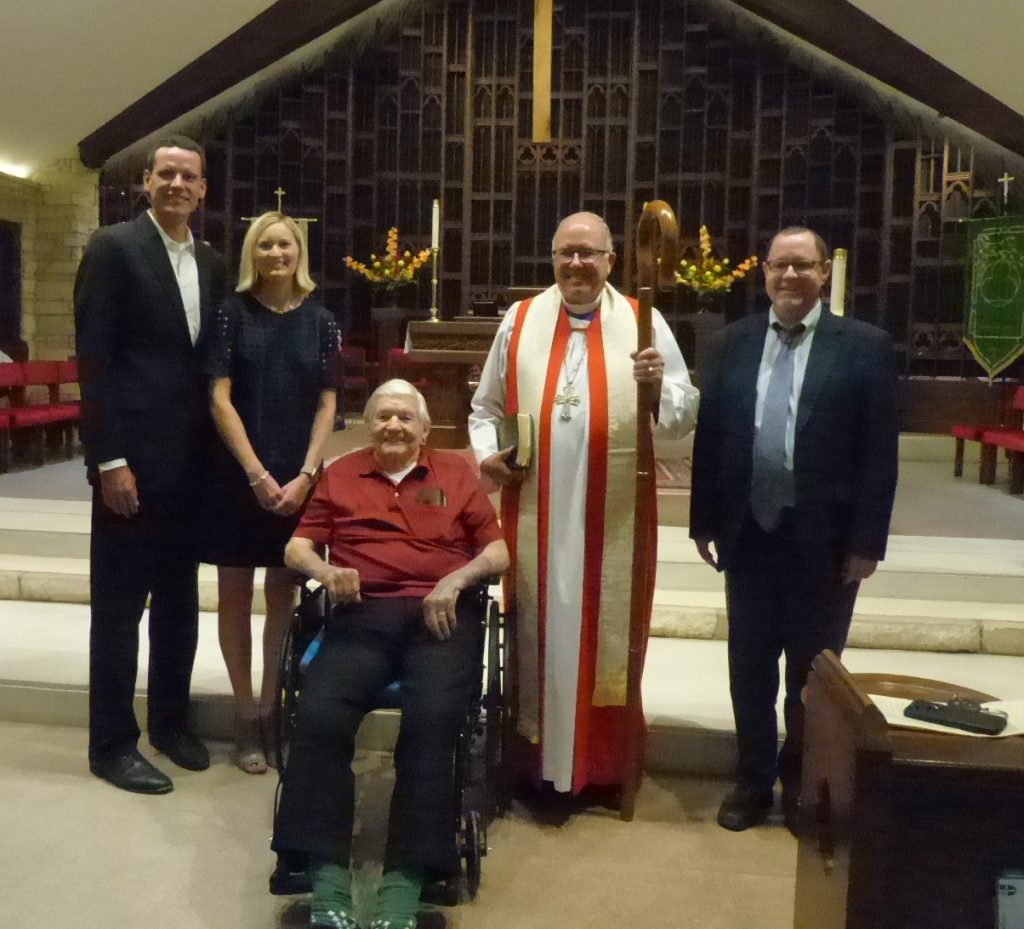 At Trinity, Bishop Mayer confirmed Juan Ramon Lajara and received David Lee Seal, Elizabeth Johnston Smid, and Matthew Joseph Smid.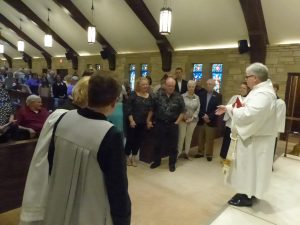 The parish also said its farewell to the Rev. Andrew Wright. Bishop Mayer addressed that as well.
"Your Interim Rector and former Associate Rector,  Andrew Wright,  has accepted a call to serve with Bishop Carlye Hughes in the Diocese of Newark as her Canon to the Ordinary.   We know what they don't know yet:  there is not going to be anything ordinary about this new canon.
"First of all,  Andrew is from Borger in the Panhandle of Texas.  He was ordained in the Diocese of Northwest Texas,  which is a long way from Newark – and I don't mean simply in terms of miles.    And I doubt that anyone in Newark ever imagined that BOTH the bishop and the canon to the ordinary  would be from the Diocese of Fort Worth.    So while we will miss Andrew – and we really don't know what to think about Carlye stealing him – there is a certain amount of enjoyment that two Fort Worth Texans are going up there to lead them.
"I'm mindful that once-upon-a-time someone said,  "Can anything good come out of Nazareth?"    Who knows?  Maybe Newark Episcopalians will be saying "all y'all" and "fixin to."
"So, the Diocese of Newark is getting a great new canon,  well equipped by way of education,  training,  experience,  and gifts for this new role.   He's a teacher,  as he has taught at four different seminaries and schools of theology,  including Brite Divinity.     He's a hard worker.   Andrew came here from the Diocese of Dallas to be Trinity's Associate Rector for Children, Families, and Young Adults.   He led the diocesan youth delegation to the Episcopal Youth Event in 2017 (an international event).   He has served on the Diocesan Executive Council,  served as Secretary to Diocesan Convention,  and chaired the Constitution and Canons Committee (and lived to tell about it).
"When your Vestry called him to serve as your Interim Rector,  Andrew accepted willingly and gladly,  and he has exercised steady and thoughtful leadership during your transition.    Andrew,  you have our deepest respect and our fondest affection.   We will miss you and the gifts you brought,  not only to Trinity,  but to the Diocese of Fort Worth.   Let's show our gratitude to Andrew."
Listen to a poscast and/or read the text of the bishop's sermon at Trinity
See more photos at the diocesan Flickr gallery
St. Alban's, Theatre Arlington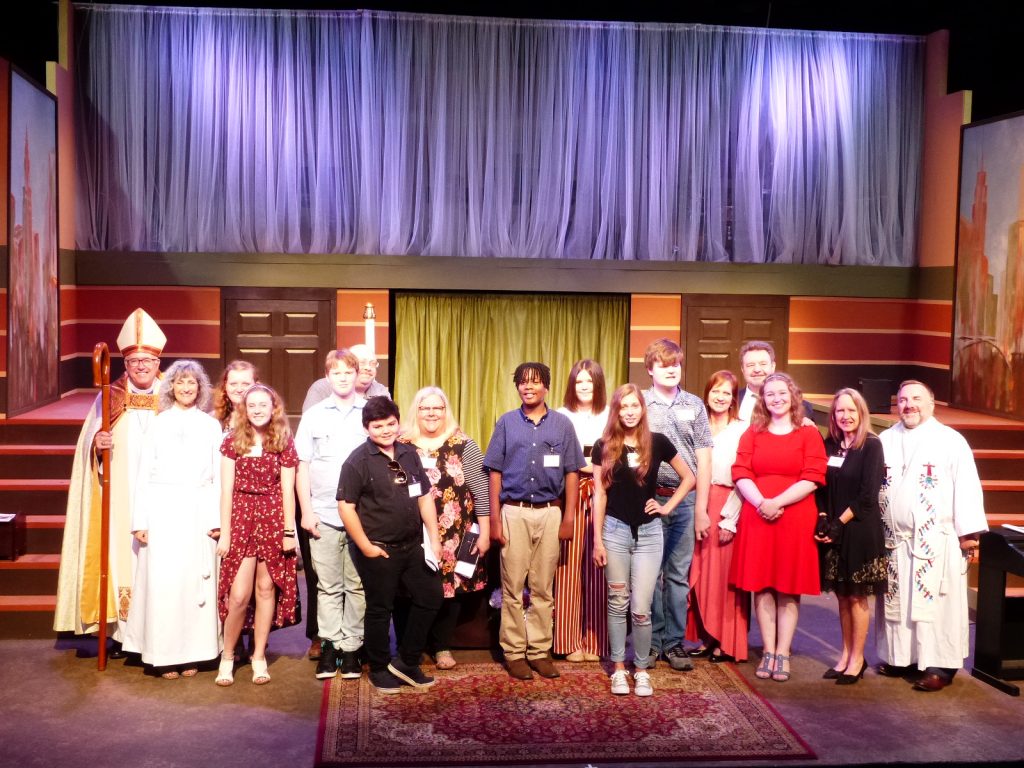 At St. Alban's the bishop confirmed Cheryl Anne Taylor-West, Andrew Richard Erwin, Caroline Elaine Erwin, Conner Nolton Erwin, Phillip Lloyd Erwin, Cora Anne Hardaway, Samuel James Hunt, Chelsie Gabrial Markwardt, and Michaela Sally Presley. He received William Timothy Erwin, Andrea Jeanne Hebson Erwin, Steven Dequeant, Susan Elaine Dequeant, and Alyssa Anne Dequeant.
In his sermon, Bishop Mayer said, "I want to take a moment this morning to talk about this love – this gift of love.  (After all, preachers are supposed to "preach about God, preach about love, and preach about 10 minutes. I suspect I'll exceed the 10 minutes.)
"I'm mindful of the prayers we say after communion (the post-communion prayers).  Today's prayer will say: thank you for "assuring us in these holy mysteries that we are living members of the Body of your Son, and heirs of your eternal kingdom."  And in the other post-communion prayer we say, "you have graciously accepted as living members of your Son our Savior Jesus Christ."
"In essence they say the same thing, but I am struck by the phrase, "graciously accepted."  Grace is a religious word meaning "gift" or "pure gift" – nothing which can be earned by good works or good behavior; nothing which is given with conditions attached. Total gift. God's love is a gift. We are graciously accepted.
"And the love that we, as living members of the Body of Christ, are called to proclaim and embody is unconditional. It is a radical grace, and it is meant for all people. All people are included in God's love."
Listen to a podcast/ read the text of the bishop's sermon
See more photos at the diocesan Flickr gallery