The Rt. Rev. Sam B. Hulsey, former bishop of the Diocese of Northwest Texas and assisting bishop in the Diocese of Fort Worth, died on August 6, 2020, on the Feast of the Transfiguration, his favorite feast day. He died at Selby Hill, his beloved family homestead in Parker County. He was 88 years old. A memorial service will be held when it is safer to gather.
Memorials are suggested to: Communities in Schools, 5601 Bridge St #501, Fort Worth, TX 76112; Episcopal Relief and Development, 815 2nd Ave, New York, NY 10017; Planned Parenthood Greater Texas, 6464 John Ryan Drive, Fort Worth, TX, 76132.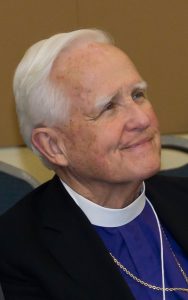 Hulsey was a Valentine's Day baby, born on February 14, 1932, to Ruth and Sim Hulsey in the old All Saints' Hospital, Fort Worth.
He is survived by his wife, Isabelle; his daughter, Ashley Louise Hulsey and her husband, Marc Kittner, of Philadelphia, PA; and his son, Byron Christopher Hulsey and his wife, Jennifer, of Woodberry Forest, VA. Stepchildren include Ruthie Porterfield of Houston, Beth Phillips and Huck Newberry of Fort Worth. Grandchildren are Ben and Claire Hulsey of Woodberry Forest, VA. Step-grandchildren include Rachel and Daniel Kittner, Marshall, Perry and Brownie Porterfield, Sydney, William and Porter Phillips and Marilyn, Isabelle, Oliver and Mack Newberry.
Scott Mayer, bishop of Northwest Texas and provisional bishop of Fort Worth, said, "Sam Hulsey was and remains a gift.  His life has made an impact on countless lives, not only in the Church but in the world.  A remarkable bishop, Sam understood that the reach of the Gospel extends beyond the personal to the cultural — even to the political."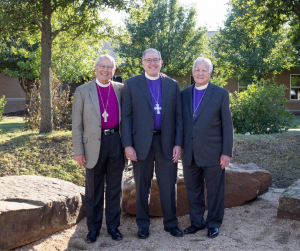 "It's true that his ability to remember names,  his personal handwritten notes,  and his sincere interest in people's lives are nothing less than legendary.  Perhaps most remarkably, Sam had the humility, vulnerability, and generosity to share his life with us.  In his living and in his dying we were along for the ride at a rare level of intimacy.
"Speaking personally, Sam was more than a bishop.  He was a mentor, a spiritual director, a coach, a pastor, and an advocate.  He was one of those rare people whose guidance and decisions changed the course of people's lives — certainly mine included.  And that puts me in a very large club."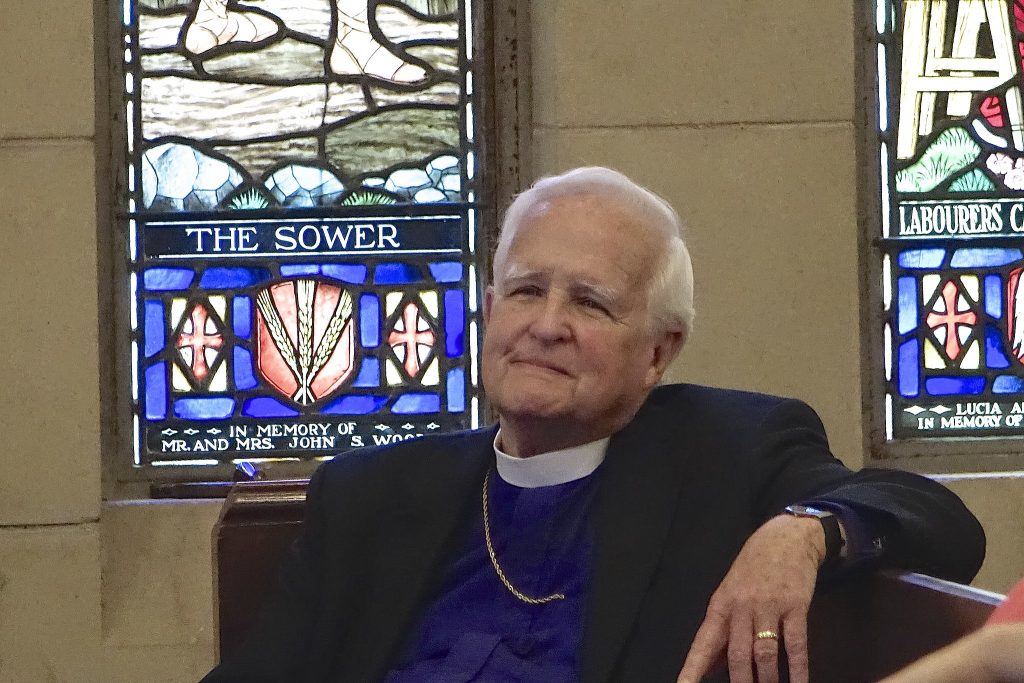 His longtime executive secretary, Carolyn Hearn, wrote, 'Bishop Sam B. Hulsey (not Samuel, as I needed to instruct people regularly) was first and foremost a southern gentleman.  He loved good hearts, good friends, good cars,  good food, good books, good movies (he never missed the Academy Awards), good soaps, beautiful homes and lawns, beautiful clothes, well behaved children and good manners.  He loved knowing about you and your family.  He not only remembered almost everyone, he also remembered their dogs.  And he loved his dogs.
"Bishop Hulsey was a delightful, perplexing and sometimes frustrating, loving and complex man who got more out of a day than anyone I've ever known.  He thrived on the comings and goings, travel, liturgy,  persons and personalities in the worldwide church and across the street.  When he sent his updated burial instructions to the office after he moved to Fort Worth, he noted that he wished his ashes to be scattered in two places.  I sent him a note that I got a chuckle out of that because it was so like him to want to be in two places at once.  He didn't think it was funny." she wrote.
Distinguished career
Hulsey had a long and distinguished career in The Episcopal Church, which culminated in his tenure as bishop of the Diocese of Northwest Texas from 1980-1997. The diocesan offices in Lubbock are in the Sam Byron Hulsey Episcopal Center. After his retirement he moved back to his hometown of Fort Worth.
In the early 2000s he was a true pastor to those Episcopalians seeking to remain in The Episcopal Church when the Fort Worth diocesan leadership was threatening to leave. After the bishop and other diocesan leaders left The Episcopal Church in late 2008, Hulsey continued his spiritual guidance of those who were rebuilding the diocese.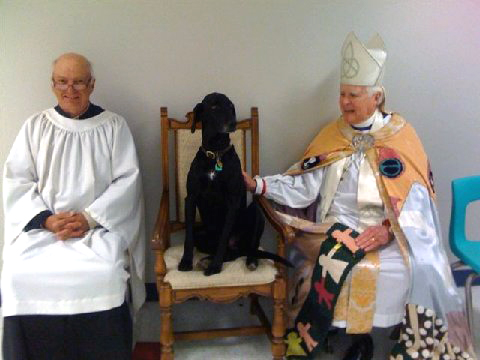 For several years following reorganization, he was one of the clergy who traveled around the Fort Worth diocese to insure displaced congregations could worship together. Bishop Mayer appointed him assisting bishop in February 2016.
Prior to his election to the episcopacy, Hulsey headed parishes in Corsicana, Pampa, and Midland, as well as in Nashville, Tennessee. Hulsey graduated with a Master of Divinity degree from Virginia Theological Seminary (1958). During his episcopacy, Bishop Hulsey chaired the Planning Committee of the House of Bishops and served on the boards of trustees of the Episcopal Seminary of the Southwest and the University of the South. He has been actively engaged in every community in which he has resided.
After he returned to Fort Worth in 1997,  he held leadership positions in numerous civic organizations, including Tarrant County Historical Society, Alzheimer's Association of North Texas, Meals-on-Wheels, Fort Worth Symphony, and Fort Worth Opera. His first wife, Linda Johnson Hulsey, died in 2001, in Fort Worth after suffering at length with Alzheimer's disease. He married Isabelle B. Newberry in the fall of 2002.
In 2015, the Diocese of Fort Worth and Brite Divinity School, located at Texas Christian University, announced the completion of a $2.5 million endowment of a faculty chair, The Right Reverend Sam B. Hulsey Chair in Episcopal Studies.
At that time Bishop Rayford B. High, Jr., said, "The Right Reverend Sam B. Hulsey Chair in Episcopal Studies honors a great man who not only is a fine bishop but also a humble Christian grounded in the love of Jesus Christ. Bishop Sam is a good friend to me and so many in the Church who turn to him regularly for pastoral guidance and mentoring. His scholarly mind, his loving gentle spirit, and his pastoral gifts offer an example to us all."
Carolyn Hearn wrote, "He told me once,  and at my retirement he told the entire diocesan convention,  that he had never worked so hard for anyone before as he did for me.  I responded to him that he had never been bishop before.  He loved his dictating  equipment but never learned to use it properly which meant I would transcribe all sorts of things which ended with him telling me "never mind, don't send that" instead of pushing the appropriate button which would put a note at the first to disregard that item.  He generated reams of transcriptions sending thank you notes to bell hops and housekeepers and sextons as well as his general correspondence (on top of all the notes on hotel stationery).  He began dictating as soon as he sat down on a plane which meant I heard (louder than his dictation) all the safety instructions before a flight.
"Bishop Hulsey loved his lists and simply could not function without them.  I picked up his habit in the manner in which he kept them and, as my ability to recall things is not what it used to be, I am grateful for it.  On a tablet on a full sheet of paper there were headings which read WRITE, GO, GET, DO and CALL.  He so loved to put a check mark by each item as it was completed.  He loved to journal and sometimes did so in meetings while sitting at the back of the room.
"I am grateful for the plethora of good books he read and the writers,  thinkers and theologians whose works became a part of my life.  I tried to read whatever he had just read so I would know where he would be coming from in the next few weeks or days be it Thomas Merton, Carl Jung, Alice Walker, Martin Luther King, Jr., Eudora Welty or Desmond Tutu.
"I am grateful for the myriad people he brought into my life from his delightful father, aunts and cousins to the presiding bishops, bishops and clergy, and good friends he made all over the church.  I am also grateful for the interest he took in my family and my friends and his pastoral care of them.  He met several of my Bishops' Executive Secretaries Together (B+E+S+T) friends when he attended a conference in San Antonio.  He checked on them, visited them when in their diocese, and especially kept in touch with one whose only child died while at the seminary in Austin."
In recent years, until his health began to fail, Hulsey led the decades-old Rae Reimers Bible Class on the second Thursday of each month. Another of his great gifts was his ministry with grieving people. For many years he led a group open to anyone dealing with death and grief. His matter-of-fact approach to a subject many avoid continued as he dealt with his own illness.  In early March, at the funeral of Deacon Henry Penner at St. Martin's, Keller, he announced in the sermon that he was a newly minted hospice patient dying from cancer.
He did so briefly, with great grace and humor, knowing full well the news would flash across both dioceses and the Church, sparing him from having to repeatedly break the news to people who love him.
His sense of humor always was present. In retirement, Hulsey worshiped at Trinity, Fort Worth, and had made it clear to all that his funeral would be there. In March of 2020, when Robert Pace, the rector of Trinity, became ill with COVID-19, Trinity suspended in-person worship. he remarked to his daughter, "I can't die 'til he gets better."
Pace recovered but the pandemic outlasted Hulsey. It must be noted, however, that it took a force of nature to do so.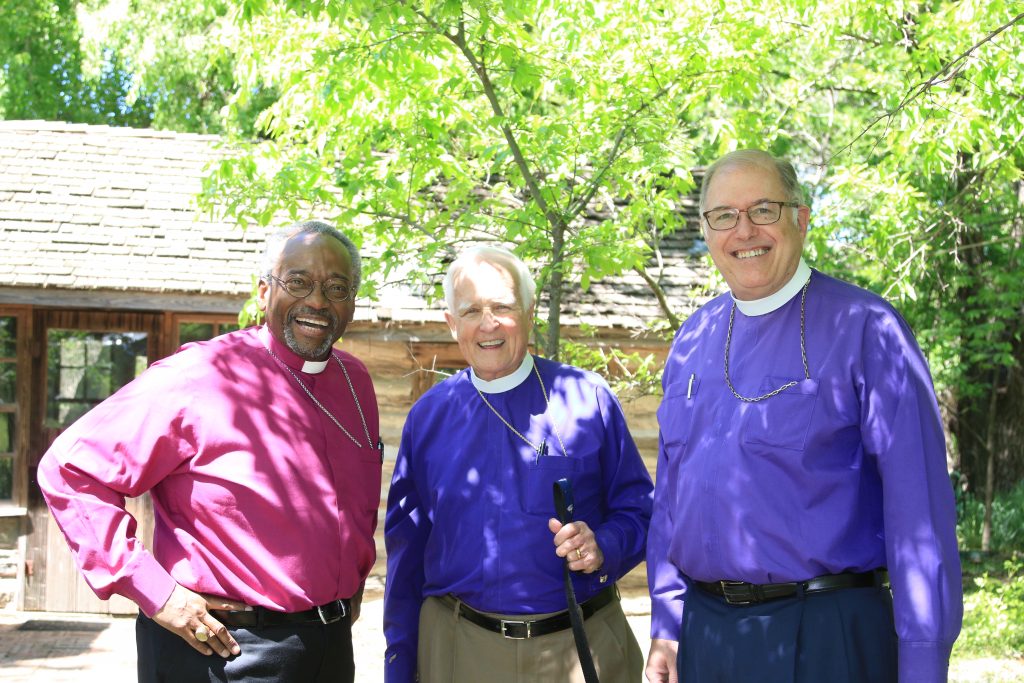 New creations every day
Hulsey wasn't easily deterred. He had the kind of focus and optimism that is grounded in the knowledge of the redemptive power of love and God's unceasing grace.
"Spirituality is messy and untidy, with few straight paths, but we are new creations every day," he said, in a  2016 sermon at St. Martin-in-the-Fields.
This March, as the ailments caused by the cancer led him to spend more time in bed, his daughter Ashley asked him what he thought about when he lay in his bed. He told her, "I am trying to figure out what I am supposed to be learning."
And she said, "That about sums up my dad."
When Mayer, bishop of the Diocese of Northwest Texas, was elected provisional bishop of the Diocese of Fort Worth in 2015, Hulsey wrote, "I retired 17 ½ years ago as bishop of the Diocese of Northwest Texas – eighty counties stretching from Perryton to Monahans to San Angelo to Albany to Vernon where I served for 27 years of ministry out on those prairies and loved it. When I returned to my hometown of Fort Worth, I found a diocese in turmoil and sadness. Since then I have been deeply impressed by the faithfulness of many Episcopalians who now compose the Diocese of Fort Worth.
"Now we are looking forward to the episcopacy of Bishop Scott Mayer. . . He is taking on no small challenge but a doable one, and he operates in the Anglican milieu at its best – open, learning, serving. The question for both dioceses must not be, 'What's in it for us?' but 'How can we best serve?' 'How can we carry on the Great Commission, the mission of the Resurrected Christ?'
"The entire Church is in a state of flux, and it's certainly true when one says, 'All it takes to be the Church is Jesus and a few people. Bishop Mayer will be a good pastor, a good prophet, a good overseer, and a good leader. We have many fine days ahead."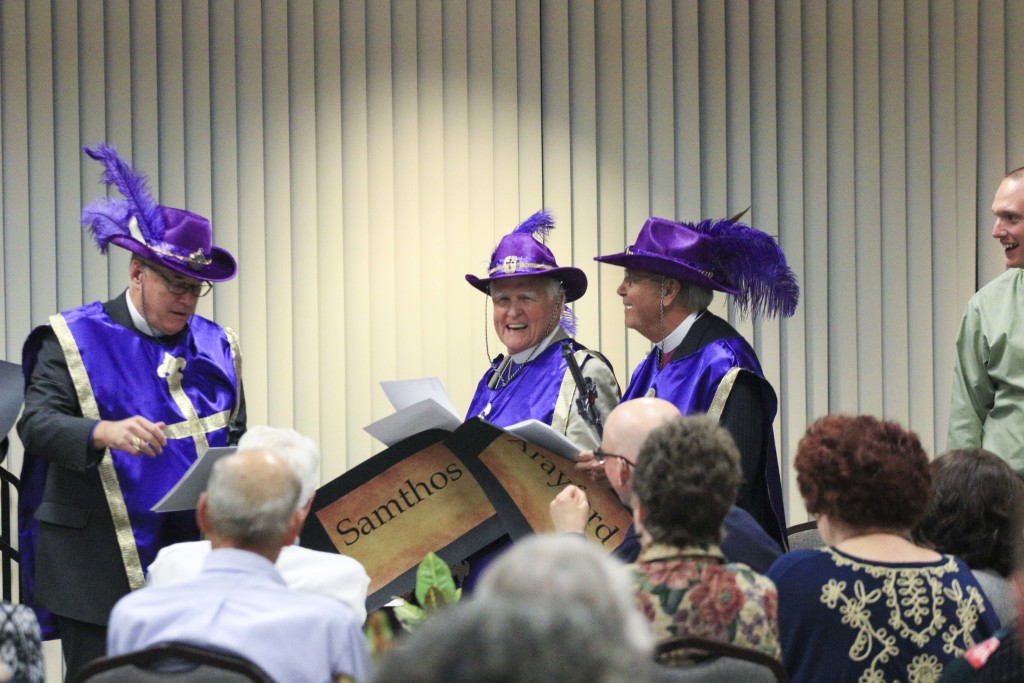 Opinions
The Rev. Bill Wright was perhaps understating the case when he said of Hulsey, "He was always honest and open in expressing his opinions."
No kidding — such as the time he opened a sermon at Trinity, Fort Worth, by lamenting how rarely he was invited to preach, or the time at convention in Northwest Texas when he announced he needed a better car. He was opinionated, funny, and kind.
"Sam Hulsey was a gentleman in every sense of that word," the Rev. James P. Haney V, rector of St. Paul's on the Plains, Lubbock, wrote.  "He somehow always seemed impeccably dressed, even when he was in more incongruous outfits, wearing a buckskin jacket and cowboy hat when diocesan convention was held in the same pavilion in Sweetwater that hosts the Rattlesnake Roundup, or in a bathing suit with the youth at the old camp pool."
Hulsey never used email, never posted on Facebook, never texted, and certainly never Tweeted. Why would he? He had refined letter writing to an art.
"In the days before electronic communications, Sam was an inveterate letter writer," Haney wrote.  "I would receive many letters that were official and had been dictated and sent from his office.  But I would also receive many, if not more, that were hand-written notes, often on hotel stationary as he was travelling around the diocese, or in his service to the national church.  Even after he retired, I would often receive a complimentary note from Sam about something he had heard about, or about something I had written.
The Rev. Bill Nix, longtime friend, talked about Bishop Sam's deep abiding interest in people and how he worked at staying informed about folks.
"He had a notebook that he would use to make notes about people, often after a convention or a visitation, because he wanted to remember important details about them. Every person mattered to Sam. Every person," Nix said.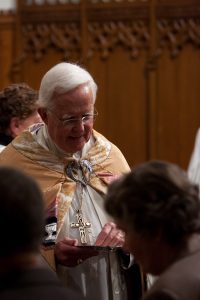 Haney agreed.  "I was always amazed at how Sam, when presiding at diocesan convention, would recognize people by name.  They didn't have to come to the microphone and state their name and parish, because Sam had already recognized them and identified them publicly for the entire convention to hear.
"I later learned that Sam not only had an enormous natural aptitude for remembering names, but that he also cultivated the skill and worked hard after every visitation to write down extensive notes about who he had met.  This speaks powerfully to the way Sam regarded the people of Northwest Texas—they were worthy of his careful attention and love as individuals."
Deep Texas roots
The Rev.  Charles J. Cook first met Bishop Hulsey in 1968, when Hulsey was the new rector of St. Matthew's Episcopal Church in Pampa.
"From the beginning, it was clear that while he had deep Texas roots, his interests stretched far beyond any Lone Star boundaries. His office included a variety of artistic paintings and sculptures, and the three most prominent books on a coffee table included Rachel Carson's Silent Spring, Carl Gustav Jung's Symbols, and Teilhard de Chardin's The Divine Milieu. One could count on references to all three sources showing up with some frequency in his Sunday sermons," Cook wrote.
But Hulsey was never "an overly clever or lofty priest—he stayed grounded in the best of ways, remaining authentically connected to who he was and from where he had been raised," Cook said.
It didn't matter whether the occasion demanded conversation about agriculture or culture, Hulsey could handle it with ease. He met people where they were, respecting them and their context.
Cook said, "Everyone knew that this was a kind person who also had the ability to make you think. Agreement or disagreement were never the real issues. Sam could love and respect you regardless of where you came down on the more edgy problems of life. Such a stance invites reciprocal behavior—a gift that is not always forthcoming in a world that values right and wrong, black or white. As most people do, Sam found those moments difficult, and while there were not many of them, there were enough. His compassionate style of liberalism was both a breath of fresh air, and for a few, some unexpected turbulence. These moments follow a good priest forever, and they don't vanish on the day of consecration."
At the funeral of his wife,  Linda, Hulsey spoke of all those Sunday morning drives they took to small parishes and missions as she shared in his ministry. He often wrote about the "peculiar treasures" inhabiting the great stretch of the Llano Estacado in the Bishop's Diary, a column in the Northwest Texas diocesan newspaper.
Cook concluded, "For Sam, communication is personal and relational, and has little or nothing to do with practicality or efficiency. It is right and admirable that he has mostly rejected the instruments that hold most of us captive to electronics and wireless wonders, but our desire to live out the lemming condition drove us past the point of no return long ago. Like the vanishing buffalo and cradle Episcopalian, those who still write letters with their own hand, can be viewed in a special place off old Route 66, heading west. They are to be cherished and imitated whenever possible. May they live forever."
Well, Sam Byron Hulsey didn't live forever, but cherished he was. He will be missed for long long time.