Bishop Scott Mayer visited All Saints' Episcopal Church, Fort Worth, on Sunday, February 11. He celebrated, preached, confirmed eight people, reaffirmed baptismal vows for two, and received one person into The Episcopal Church.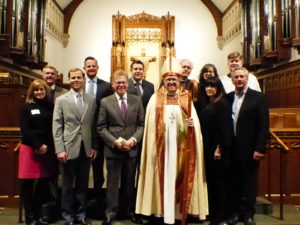 Those confirmed are John Michael Chapman, Karen Moreland Farnell, Michael Erwin Farnell, Christopher Ryan Gores, Ronda Ricks Miller, Blake McCarty Macon, Andrew Deney Martin and Cole Cowden Means II.
Those reaffirming baptismal vows were R. J. Miller and Michael George Mullins. Katherine Mason Roberts was received.
This slideshow requires JavaScript.
The parish also had a luncheon and silent auction to benefit their Belize mission and the Holy Cross School Feeding Program.
Listen to a podcast of the bishop's sermon.
See  more photos at the diocesan Fllickr gallery.