Bishop Scott Mayer visited the Episcopal Church of Hamilton County (St. Mary's) on the Third Sunday of Advent, December 11, 2016. He celebrated, preached, and confirmed Ms. Mary Adcox.
The Rev. Noy Sparks is supplying at Hamilton, having moved to Granbury to take care of his mother. He also serves as chaplain at All Saints Episcopal School in Fort Worth.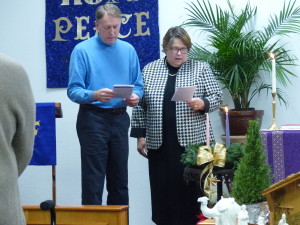 Watch a video of Bishop Mayer's sermon below or on YouTube.

Watch a short interview with the Rev. Sparks below or on YouTube..
See more photos at the diocesan Flickr Gallery.