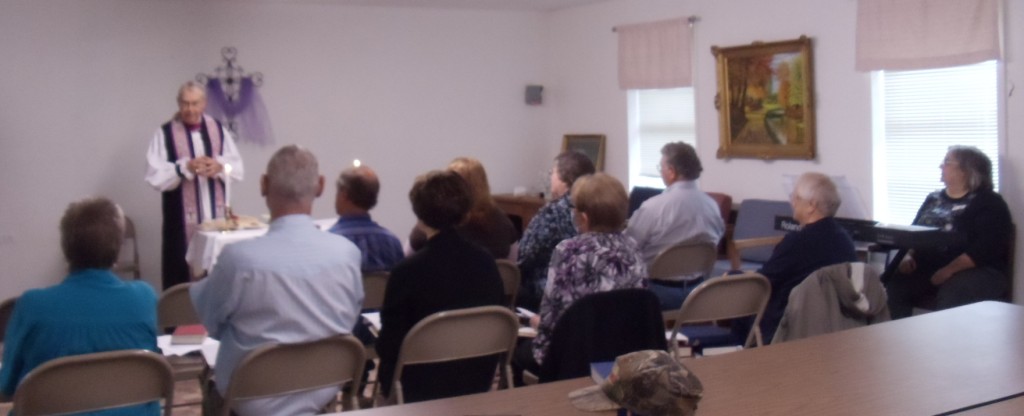 The Rt. Rev. Rayford B. High, Jr., visited the Episcopalians of Wise County in their newly-acquired worship space, the Boonsville Community Center, located at the intersection of Draco-Boonsville Rd (CR 3743) and FM 920 on Sunday, March 22, 2015. Boonsville is about an hour west of Fort Worth.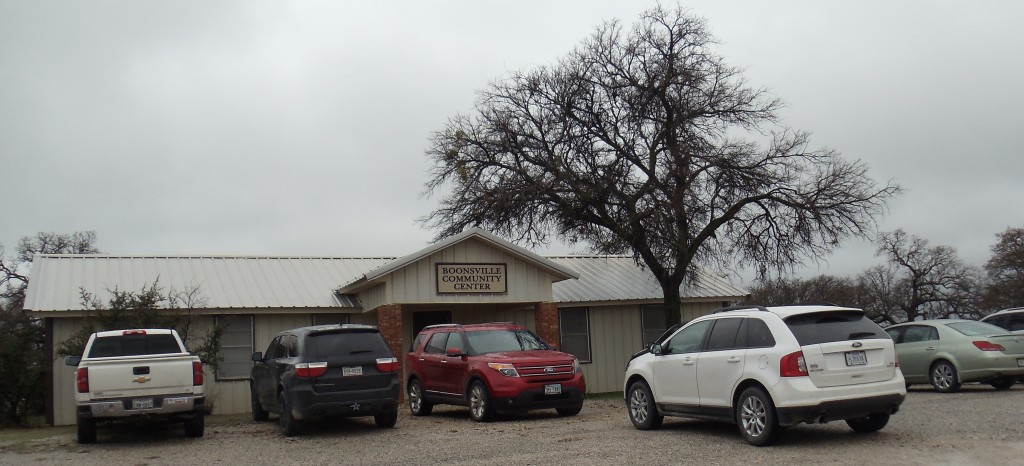 They have been gathering for Morning and Noonday Prayer for several weeks, but  March 22, the Fifth Sunday in Lent, was the first time they celebrated Eucharist in their new space.They will be meeting there at 10 am every Sunday for Morning Prayer, and when a priest is available, for Eucharist unless there is another event scheduled at the Community Center, said Ellen Whitley.In that case, they will arrange an alternate meeting place. Whitley and her husband, Mark, have been leaders in organizing the Wise County congregation.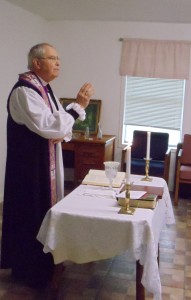 Prayer books, an altar book, a Gospel book,and two candlesticks were donated by Episcopalians in Wichita Falls. St. Stephen's, Hurst, sent hymnals, Elinor Normand of Trinity, Fort Worth, sent palms, and Janet Waggoner, canon to the Ordinary, provided a register. Ministry Support and Communication Officer Tracie Middleton found altar goods. Sarah Walker, who has been meeting with the Wise County folks, brought her keyboard, so they had music along with their hymns. And they used the bishop's hat for the collection plate.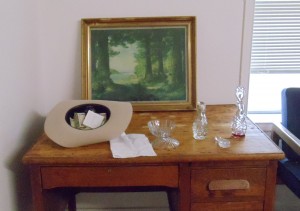 In addition to prayers from this diocese, they also received a letter from St. Stephen's in Heathsville, VA., whose rector is the Rev. Lucia Lloyd. Lloyd has visited this diocese several times. Jill McClendon read the letter from Lloyd, which told of their prayers for them and related St. Stephen's experience of being displaced from their building for five years before the litigation in Virginia was resolved. It was signed by all the members of St. Stephen's, Heathville. All were very moved by the expressions of prayer and support.
Bishop High said, "It was such a pleasure to be here. There is such a good spirit and enthusiasm with this group."
The bishop is working closely with the Wise County group and has delegated Ministry Support and Communications Officer Middleton as the contact person. People wanting to make donations should make checks out to the diocese with "Wise County" in the memo line and mail them to the diocesan office at 4301 Meadowbrook Dr., Fort Worth, TX 76103.
Watch a short video that includes excerpts of the bishop's sermon.
See more photos at the Diocesan Flickr Gallery.