Bishop Rayford B. High, Jr. visited the Episcopal Church of Wise County in Decatur where he confirmed Mark Whitley, who with his wife, Ellen, has been instrumental in organizing the new worshiping community.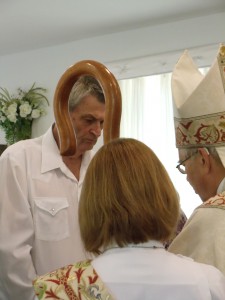 The bishop blessed the altar Whitley built, along with the altar goods. The congregation also celebrated the fact that they now have a sign on the building, the historic Episcopal Mission of the Ascension.
And once again, the bishop's hat was passed during the collection. In true Episcopalian fashion, this is becoming a tradition in Wise County when Bishop High visits.
See more photos in the Diocesan Flickr Gallery.