Ash Wednesday news coverage in the Fort Worth – Dallas area featured congregations of our diocese.
Ellen Bryan of NBC Channel 5 News interviewed the Rev. Karen Calafat of St. Luke's in the Meadow, Fort Worth, about the burning of palms to make the ashes for Ash Wednesday and about Ash Wednesday in general.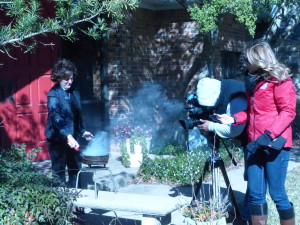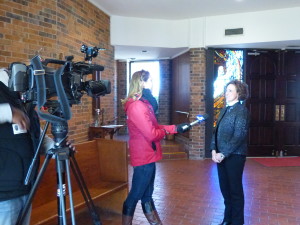 St. Luke's offered Ashes to Go in front of the church across from Meadowbrook Elementary School and Meadowbrook Middle School.
St. Alban's, worshiping in Theatre Arlington, was featured in the news on the front page of the February 11 Fort Worth Star-Telegram, in a photo gallery on their website, and in an online video about their participation in an ecumenical Ashes to Go program at the University of Texas at Arlington. The Rev. Kevin Johnson of St. Alban's is featured in the video. The photos and the video are all by photographer Joyce Marshall of the Fort Worth Star-Telegram.
See the Star-Telegram Photo Gallery of Ashes to Go at UTA.
Watch the Star-Telegram video of Ashes to Go at UTA.
The Star-Telegram also took photos at the Drive-Thru Ashes at St. Martin-in-the-Fields, Keller/Southlake.
More than 72 people received ashes or prayers at St. Martin-in-the-Fields Episcopal Church, Keller-Southlake Drive-Thru Ashes between 5 and 6 pm Ash Wednesday in the church parking lot on Pearson Lane in Southlake. St. Martin's offered 12 pm and 7 pm worship in the church. They offered Drive-Thru Ashes as an evangelical component that takes the ritual imposition of ashes outside the church into a busy community.
More than 20 youth group members and their sponsors waved at drivers on Pearson Lane to invite them. Busy parents came with toddlers in pajamas and carseats. Adults and teenagers came, driving home from work or on to somewhere else. Not everyone has time for traditional worship in the middle of a week. One Keller man said, "I don't have time to worship today. But I felt the love of God here in this invitation. Thank you."
The Rev. Tony Hiatt of the Episcopal Church of Wise County offered Ashes to Go at the Starbucks in Decatur.
The Rev. Bill Stanford of St. Christopher, Fort Worth,  offered Ashes to Go at the Starbucks at Trail Lake and Loop 820.
See more photos on the diocesan Flickr Gallery. 
See more photos in St. Martin's Flickr Gallery.
See more photos in Trinity's Flickr Gallery.
Susan Kleinwechter contributed to this report.