Annette Mayer will be ordained to the Sacred Order of Priests at 7 pm Thursday, March 1, 2018 at St. Martin-in-the-Fields Episcopal Church in Keller. The Rev. Maurine Lewis will preach. A reception will follow.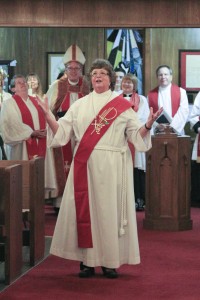 Mayer was ordained a deacon on October 22, 2015, also at St. Martin's.
New Call
Mayer has accepted a call to serve as rector of The Episcopal Church of the Transfiguration in Palos Park, IL, in the Diocese of Chicago. Most recently, she has been serving as the deacon at St. Stephen's in Hurst.
She grew up in Slidell and New Orleans, Louisiana and moved to Texas in 1975. She worked in dentistry as practice manager for 35 years before returning to school in 2005. She graduated from the University of North Texas with a Bachelor of Social Work, and has been employed by Walls' Universal Health Services where she has worked as a hospice social worker and is currently a hospice chaplain and bereavement coordinator. She and her spouse Don have been married for 38 years and have two adult sons, John and David. They have lived in North Richland Hills for the last 30 years.
Mayer was raised Roman Catholic and was received into The Episcopal Church in 1980 at St. Luke's Episcopal Church in San Antonio. She and Don attended Cursillo in El Paso, Texas. They have been members at St. Martin-in-the Fields in Keller/Southlake for the last 24 years. Annette served on vestry, been a Sunday school teacher, worship leader, lay Eucharistic minister, lay Eucharistic visitor, choir director, stewardship chair, and Stephen Ministries leader.
Mayer began discerning a call to ordained ministry in the early 80's, attended the Anglican School of Theology in the early 90s, and was finally able to begin officially discerning a call to priesthood in 2009. She graduated from Brite Divinity School with a Master's in Divinity in December 2015. She completed her supervised ministry at St. Alban's Episcopal Church in Arlington.
Following her ordination to the diaconate, Mayer served at St. Martin-in-the Fields and St. Stephen's, Hurst.
Map
St. Martin-in-the-Fields Episcopal Church
223 S. Pearson Lane, Keller, Texas, 76248