The Rev. Dr. Andrew R. Wright, currently interim rector of Trinity Episcopal, Fort Worth, has accepted a new call. He has agreed to serve as Canon to the Ordinary to the Rt. Rev. Carlye Hughes, bishop of the Episcopal Diocese of Newark. Hughes is the former rector of Trinity. She was elected bishop in Newark on May 18, 2018.
Wright came to our diocese from the Diocese of Dallas to be Trinity's associate rector. He also has served as secretary to diocesan Convention and Executive Council, as Trustee to Sewanee, the University of the South; led a diocesan youth delegation to the Episcopal Youth Event 2017, and has chaired the Constitution and Canons Committee. His farewell letter to the parish is below. The Episcopal Diocese of Newark's story on Wright's call to serve is linked here.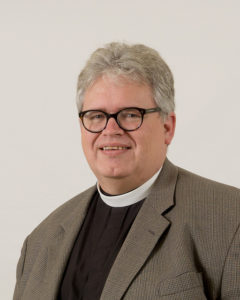 ---
May 22, 2019
Dear Trinity Family,
While I will always be from Borger, Texas, and was sponsored for ordination by that church and the Diocese of Northwest Texas, you have become another church home to me. You welcomed me when I was a college student in the late '80s, offering a place to worship and the fellowship of a campus ministry group. And, lo, these many years later, you welcomed me as your Associate Rector for Children, Families, and Young Adults. I worked in that role, as well as supporting overall parish ministries, for five years. I loved working intentionally with families with young children, with college students and young adults, and with teens in our youth ministry. And then, a year ago, you asked me to step in as Interim Rector, which I was glad to do, to provide some continuity and also tend to changes needed during the transition. You are one of the places I call home. I am so thankful and appreciative for each of you and who you are and am very proud of the ministries we have shared together in this place.
The Holy Spirit, though, is always on the move and often challenges us with new directions – just like when I felt the call to leave being Rector of another parish to come and join you here at Trinity. And now, I have heard a new and different call for the next chapter of what God is doing in my life and ministry. At the invitation of Bishop Carlye Hughes, a beloved and familiar person to all of us, I've agreed to serve as Canon to the Ordinary for the Episcopal Diocese of Newark. The Canon to the Ordinary serves as a principal support for the work and ministry of the bishop, works with congregations and clergy throughout the diocese, and serves as chief of staff for the diocesan office. I think it is interesting and exciting to get to work with a broad variety of churches and to help with the continuing formation and development of clergy and lay leaders. I also am excited to work with +Carlye in this new ministry that she has undertaken, as we seek what it means to be the Church in the world today and tomorrow.
My final Sunday will be June 30, 2019, and I begin in Newark shortly afterwards. Please pray for my transitions, both physically in moving and vocationally in taking on a very different ministry. Please pray also for my family, especially my kids and mother, as we restructure how we spend time together at a distance. I will certainly be continuing to keep Trinity, all her people, staff, clergy, in prayer as you move forward with the search process. God has been good to Trinity and you have been good to one another and your community; God will bring the priest you need into view soon enough.
In the weeks to come, you'll hear from the Senior Warden and the Vestry about interim clergy staffing for the remaining months of the search process. Please continue to give your parish leaders your support and encouragement, especially during this transitional time.
I will miss you all very much and love you all very much.
Pax,
+Andrew
The Rev. Dr. Andrew R. Wright
Interim Rector