The Rt. Rev. Rayford B. High, Jr., recently retired provisional bishop of Fort Worth, ordained Andrew Ellison as deacon at St. Alban's at Theatre Arlington on Wednesday, December 16.
He was presented by the Rev. Kevin Johnson, the Rev. Jordan Haynie Ware, Mrs. Casie Ellison, Mrs. Franceen Lyons, Mrs. Priscilla Promise, and Mr. Walt Cabe. Those assisting with vesting were Mrs. Ellison, Ms. Jeanne Casstevens, and Mr. Dyke Ellison.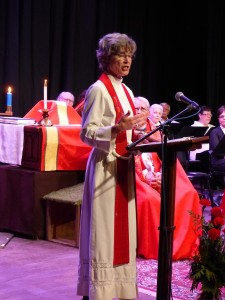 The Rev. Dr. Jane Patterson,  Assistant Professor of New Testament and Director of Community Care at the Seminary of the Southwest in Austin, preached.
Watch a short video of the event.
Watch a video of Patterson's sermon.
See more photos at the diocesan Fllickr Gallery.