Do you want to add meaning and joy to your Advent journey, as you prepare your heart for Christmastide in hopeful expectation? We have some resources to provide some inspiration in the midst of your busyness – something for everyone of every ages:
You can probably fit in a reflection on a single word, right? Maybe even talk about it as a family? AdventWord offers a great way to reflect on one little word each day, and respond with images and prayers that speak to your heart. There are at least four ways you can use AdventWord:
You can print out the advent calendar for daily use
You can subscribe by email: sign up here and each morning, starting on December 3, you will receive an email with an image, an Advent word and a short meditation.
You can follow #AdventWord  on social media on Instagram, Facebook and Twitter, and connect with for inspiration and reflections from around the world.
You can help create a global Advent calendar online by posting

your

visual reflection of the daily #AdventWord on Facebook, Instagram and Twitter. Upload and tag your individual photo with the hashtag #AdventWord and the word tag of the day. The Anglican Communion Office is asking Episcopalians and Anglicans around the world for daily social conversations conversations using one simple word.
One, simple word – isn't it a great way to pause and think about the true meaning of Advent and Christmas?
---
The 2017 Advent Devotional Calendar designed by Thomas Mousin and Merry Watters and published on their website is a simple calendar that suggests a scripture reading and activity for each day of Advent. It's easy to print and use at home. View & print this one-page calendar.
---

Praying in Color offers adults and children a way to mark the day-by-day journey to Christmas by daily praying & drawing with a calendar template. The author says, "When I draw, color, and doodle my own Advent calendar, I feel like I'm building something rather than tearing it apart. It is a countup to Christmas, not a countdown. At the end of the 20-some days, the finished Advent calendar is a colorful reminder of what was in my head and on my heart. It is a record of my spiritual journey through Advent." Various calendar templates are offered, along with suggestions for ways to pray with doodling. View and download Praying in Color Advent Calendars here along with other resources they offer.
---
The Episcopal Church in Parker County invites you to try out a daily practice of prayer as a way of committing to a new practice for the short time of Advent. They offer short scriptural readings and a few meditation questions each morning and evening to help you go a little deeper into faith:
Praying Advent – an online resource from The Episcopal Church in Parker County
---
Seminary of the Southwest invites you to read and listen to meditations and prayers offered by faithful alumni, students, faculty, staff, trustees, and friends.
Advent Meditations & Prayers from Seminary of the Southwest 2017
---
This Advent calendar invites you to put one item of non-perishable food aside each December day before Christmas as a gift. Daily giving with a focus on the needs of others is a nourishing idea all around. Learn how.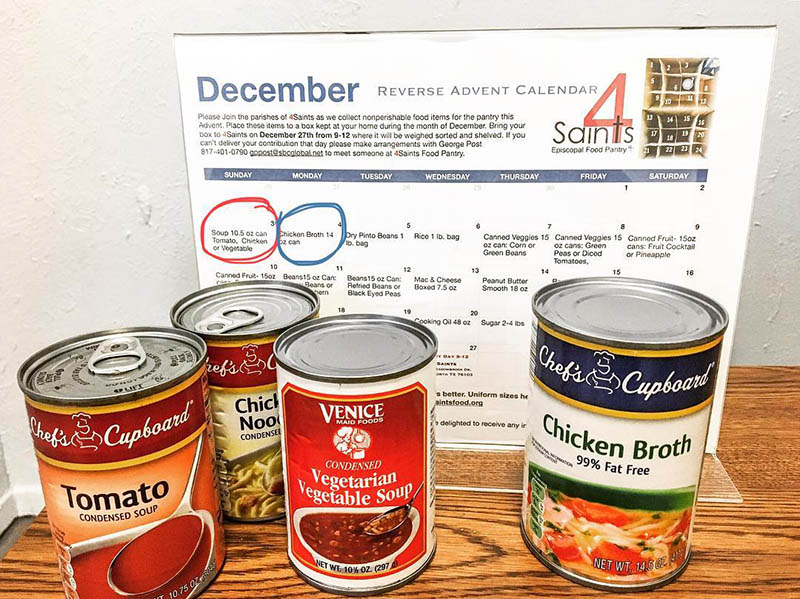 ---
Not quite sure what Advent is? Struggling to explain it?
The video "Advent in 2 Minutes" from bustedhalo.com may be what you need!