Bishops are central to the life, worship, and ministry of The Episcopal Church. The word "episcopal" means "of a bishop or bishops" or "governed by or having bishops." Bishops in The Episcopal Church are elected by the people of the area (diocese) she or he will be leading and consented to by a majority of the bishops and leaders of the 111 dioceses in the Church. Bishops carry a shepherd's curved staff (crosier) as a symbol of the role they fill as shepherd to a flock. They are called to lead, inspire, teach, and care for the people of a diocese. Our diocese has three bishops – the diocesan or main bishop, and two retired bishops who assist him.
The Rt. Rev. J. Scott Mayer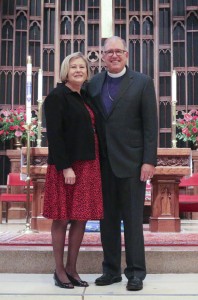 The Rt. Rev. J. Scott Mayer was elected the fourth provisional bishop of the Episcopal Church in North Texas at a Special Meeting of Convention on May 16, 2015, at Trinity Episcopal Church, Fort Worth.
He succeeds the Rt. Rev. Rayford B. High, Jr. Mayer continues as bishop of the Episcopal Diocese of Northwest Texas while also serving as provisional bishop of Fort Worth. He splits his time between the two dioceses.
James Scott Mayer is a native and lifelong Texan, born in Dallas and raised in Lubbock and Fort Worth. Mayer has long and deep connections to Fort Worth. He and his younger brothers were baptized and confirmed at St. Andrew's Episcopal Church in Fort Worth, attended Fort Worth public schools, graduated from Southwest High School, and enjoyed memorable summer days playing ball at University Little League. Several family members continue to reside in the Fort Worth area.
In 1977 Mayer received his BBA Degree in Management from Texas Tech University. He and Kathy Kistenmacher met while attending Texas Tech and were married in 1978. After twelve years of sales in the automotive aftermarket, the family moved to Austin, where Mayer earned a Master's in Divinity from the Episcopal Theological Seminary of the Southwest in 1992.
Bishop Mayer was ordained deacon in 1992 by the Rt. Rev. Donis Patterson and ordained priest in 1993 by the Rt. Rev. James Stanton, both in the Episcopal Diocese of Dallas. He then served as curate at St. James Episcopal Church in Texarkana  before being called to the Church of the Heavenly Rest in Abilene – first as associate rector in 1994, and then as rector in 1995. He was consecrated as bishop of the Diocese of Northwest Texas on March 21, 2009, in Lubbock. The Mayers have two grown children, both married, and three grandchildren.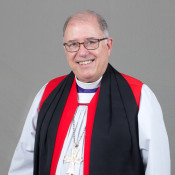 Download Bishop Mayer's photo.
Download the customary for a bishop's visitation.https://edotn.org/assets/Bishops-Customary-2022-1.pdf
Download a coloring and activity book for children to learn about the bishop, our diocese, and our church.
---
The Rt. Rev. Rayford B. High, Jr.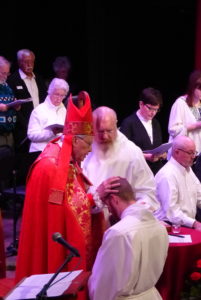 Assisting Bishop Rayford B. High, Jr. served as provisional bishop of The Episcopal Church of North Texas from November 2012 to June 2015. Prior to that, he served as bishop suffragan of the Diocese of Texas from 2003-Spring 2012. He was canon for pastoral ministries and the diocesan liaison to St. Luke's Episcopal Hospital when he was elected bishop suffragan. As bishop suffragan, he oversaw congregations in the Northeast, San Jacinto and Southeast Convocations. Prior to becoming Canon for Pastoral Ministries, Bishop High served in parish ministry for 32 years, most recently as rector of St. Paul's, Waco.
A native of Houston, Bishop High graduated from Bellaire High School; University of the South in Sewanee, Tennessee, and Episcopal Theological School in Cambridge, Massachusetts. He was elected to represent the diocese as a deputy at General Convention on eight occasions and was named Waco humanitarian of the year. Bishop High's wife of fifty years, Pat, died  in 2015. They have three children and six grandchildren.
Bishop High married the Rev. Canon Ann Normand on August 12, 2017.
Bishop High enjoys his work with our people and our churches! If you'd like to view photos of Bishop High around the diocese, click here.
---
The Rt. Rev. Sam Hulsey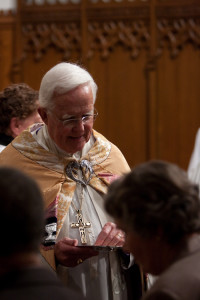 Until his death on August 6, 2020,  Bishop Sam B. Hulsey was an assisting bishop in our diocese. Hulsey had a long and distinguished career in The Episcopal Church, which culminated in his tenure as bishop of the Diocese of Northwest Texas from 1980-1997.
Prior to his election to the episcopacy, Bishop Hulsey headed parishes in Corsicana, Pampa and Midland, as well as in Nashville, Tennessee. A Fort Worth native, Bishop Hulsey graduated with a Master of Divinity degree from Virginia Theological Seminary (1958). During his episcopacy, Bishop Hulsey chaired the Planning Committee of the House of Bishops and served on the boards of trustees of the Episcopal Seminary of the Southwest and the University of the South. He has been actively engaged in every community in which he has resided.
Since his return to Fort Worth upon his retirement in 1997, Bishop Hulsey has held leadership positions in numerous civic organizations, including Tarrant County Historical Society, Alzheimer's Association of North Texas, Meals-on-Wheels, Fort Worth Symphony, and Fort Worth Opera. He and his wife Isabelle have been married for 17 years.