If you plan to make 2017 year-end gifts to your congregation and/or to the Episcopal Diocese of Fort Worth, now is the perfect time.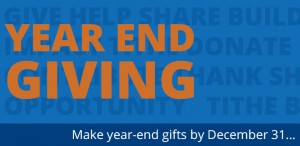 DEADLINES
For tax purposes, the deadline for 2017 year-end gifts is Sunday, December 31.
Online – Online transactions completed up to midnight on December 31 will be counted in the 2017 tax year.
By Mail – Gifts for 2017 must be postmarked by December 31. If you wish to make a check out to the Episcopal Diocese of Fort Worth, please make a note of the specific ministry to which you wish to donate or the person you wish to honor in the memo line, and mail it to:
The Episcopal Diocese of Fort Worth
PO Box 8695
Fort Worth, TX 76124
In-person – If you plan to deliver your gift in person, either to the diocesan office or to your church office, you may want to confirm what hours a staff member, clergy person or volunteer will be there to receive your gift. The diocesan office will be open Friday, December 29 until noon. The office will not be open on Saturday, December 30 or Sunday, December 31.
CHOOSE WHERE TO DIRECT YOUR GIFT
You may choose where you would like your gift to be used:
An unrestricted donation, which allows the diocese the greatest flexibility to provide resources needed to grow and strengthen congregations and encourage and develop leaders for ministry.
A gift to a specific ministry, organization, or group. Inside the diocese, that could include the diocesan disaster relief/recovery fund, diocesan youth programs, Christian education, campus ministries, support to seminarians, or scholarships for Education for Ministry (EfM). Outside the diocese, that might be ministries such as the United Thank Offering (UTO) or Episcopal Relief and Development (ERD).
HONORING OR REMEMBERING OTHERS WITH YOUR GIFT
You may also designate someone you would like to honor or remember with your gift. The diocese can send a letter to notify the person you wish to honor or a loved one of the person you wish to remember if you provide their name(s) and address(es).
And thank you. Your participation helps ensure that our uniquely Episcopalian expression of Christian faith will remain accessible to all our neighbors in the 24 counties of north central Texas.