The application for mission and outreach grants is now closed for 2016.
Take a look below at successes in projects that received funds in the 2015 process. 2016 grant recipients will be announced after the committee meets at the end of August.
2015 Outreach Grant Successes
The Mission and Outreach Committee of the diocese awarded grant funds to several projects within and outside the diocese in 2015. Open the sections below to read more about each project.
Projects within the diocese
St. Alban's - Arlington Life Shelter Case Management
From the Rev. Kevin Johnson of St. Alban's:
St. Alban's in Arlington is located one block from the Arlington Life Shelter. Consequently, we regularly have shelter clients join us for worship and fellowship. In addition, we provide meals for the shelter's clients. Through the generosity of the Mission and Outreach Committee of the Episcopal Diocese of Fort Worth, we were able to strengthen the relationship between the parish and the shelter as well as provide a needed service to homeless children, which are often overlooked.
The Committee's $4,302 grant enabled the shelter to provide direct mental health counseling with the children and moms, resulting in stabilization and positive behavioral changes. In addition the Parish provided movie nights on Fridays just for the children. This enabled the moms to have free time take advantage of their counseling opportunities. Another volunteer focus area was the review and organization of the over-the-counter medication area, which had been sorely neglected. The area now functions more effectively for both the shelter staff and the clients. The total volunteer hours sponsored by the parish directly related to grant operations are one hundred thirty. In addition to the grant, eighteen parishioners completed an in-depth orientation session with the shelter's volunteer coordinator, which has resulted in an increase in individual volunteerism and in-kind donations of paper products.
The shelter and St. Alban's are grateful for the Committee's generosity and support of homeless women and children. It has been a mutually beneficial activity that we believe will have continued effect.
St. Luke's - 4 Saints Food Pantry
Patti Callahan, President of the 4 Saints Episcopal Food Pantry, sent the following letter to the Mission and Outreach Committee:
Since receiving the generous grant in the amount of $7,000 from the Diocesan Mission and Outreach Committee we, the Board of Directors, selected the name for the pantry to be 4 Saints Episcopal Food Pantry. The name of the food pantry was created to represent the four churches of the Fort Worth East Deanery. The diocese is allowing the food pantry to operate under the non-profit of the Episcopal Diocese of Fort Worth until the process is complete for 4 Saints to become a 501 (c) 3 non-profit organization.

The Board of Directors is made up of, two members (2) from each, St. Alban's in the Theater, Arlington, St. Stephen's, Hurst, and St. Martin in the Fields, Keller, and four (4) from St. Luke's in the Meadow, Fort Worth. There are two (2) affiliate, non-voting, board members from Girl Scout Troop #3012 (Canon Janet Waggoner is co-leader of this troop.)

Board Members are as follows:

The Rev. Karen Calafat, St. Luke's
Paul Callahan, St. Luke's
The Rev. Kevin Johnson, St. Alban's
The Rev. Henry Penner, St. Martin's
Rick Kern, St. Stephen's
Allan Phillips, St. Luke's
Mitch Herod, St. Luke's
Elizabeth McPherson, St Alban's
Joy Malmgren, St. Martin
Diane Snow, St. Stephen's
Annabelle Sauer, Girl Scout Troop 3012
Kayla Campbell, Girl Scout Troop 3012

The board meets monthly on the third Thursday of each month. The pantry organization's bylaws have been created and forwarded to Sandy Liser, Chancellor of EDFW, for her review, comments and / or approval. Officers of the Board of Directors will be elected at the June 16th meeting. Job descriptions for the volunteer positions of Food Pantry Director and Food Coordinator have been created and will be approved at the June 16th meeting as well.

Following the lead of St. Martin in the Fields, each parish [has been participating] in a fundraiser once per month on the Sunday nearest the 17th of the month referred to as "17 on the 17th". The significance being 17 cents purchases one (1) pound of food from Tarrant Area Food Bank. A spreadsheet is attached with the current funds being held in account at St. Luke's until officers have been elected. Upon election of a Treasurer, a separate checking account will be opened specifically for 4 Saints Episcopal Food Pantry. Presently, the parish administrator and bookkeeper at St. Luke's, Adriana Cline, manages the funds.

Board members and pantry volunteers have visited two food pantries in Fort Worth, Christian Community Assistance, CCA, on Bowie St. Fort Worth, the director of which is Chess Weeks, a member of St. Christopher Episcopal Church. One of the volunteers at CCA, Mike Nichols, has been our mentor in the organizing process. We also visited St. Andrew Catholic Church Food Pantry in Fort Worth, the home parish of affiliate member Annabelle Bauer.

On the evening of May 12th several volunteers from St. Luke's and St. Alban's worked for three hours at Tarrant Area Food Bank, Fort Worth, and the goal is to volunteer at least once per month for 'on the job training' and to support the Food Bank.

Some of the board members also attend the Fort Worth East Deanery meetings providing a report of the progress and also submit minutes of the food pantry meetings and a spreadsheet accounting of the funds received to date.

We are so grateful for the grant money, the seed money, received from the Diocesan Mission and Outreach Committee for 4 Saints Episcopal Food Pantry. Those funds will be used primarily to create the space for the food pantry within an existing space, adding wall partitions, doors and air-conditioning and upgrade the electrical service to the space.
Recently we applied for a First Mark of Mission Funding Grant, Category 11: Mission Enterprise Zone (MEZ) / Missional Initiative MEZs primarily gather around ministries of service, justice, and mercy with communities of a particular demographic. The grant application was submitted May 31, 2016, requesting $30,000 to support our mission of serving the food insecure of east Fort Worth. We are also applying to the Walmart Foundation, the Meadows Foundation, and Barrett – Bateman Foundation for additional funds.

The objective of 4 Saints Episcopal Food Pantry is to be open and serving clients in September 2016, once per month initially, and progressing to once per week. The plan is to grow at a pace that the number of volunteers will allow. We must be operational for six (6) months before applying to become an agent of Tarrant Area Food Bank, a goal within the first year of operation.
St. Martin's - 'Walk a Mile in My Shoes' & 'Service Sunday'
St. Martin-in-the-Fields Episcopal Church conducted an annual shoe and sock drive for men who reside at Union Gospel Mission of Tarrant County. Their third and fourth years of this drive were helped by matching funds from the Fort Worth Diocese. In 2015, $2,000 was provided by the diocese and paired with personal gifts and outreach funds from Saint Martin's.
According to Joyce Malmgren, "With 150 men in residence at Union Gospel Mission, providing enough shoes is a challenge." Richard Seeber, also of St. Martin's outreach committee, shared, "Our sock drive brought in over 350 pairs of new socks. The people of St. Martin donated 46 pairs of shoes. With funds from the church and a $2000 grant from the diocese, we purchased 170 pairs of shoes. That means a total of 216 pairs of shoes are going directly to the men of UGM."
Read St. Martin's story of this shoe outreach in 2015 and also how St. Martin's helped men receive shoes in 2014.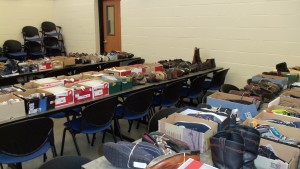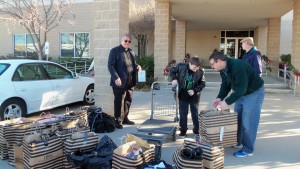 Another ministry of St. Martin's also received some grant funding: "Service Sundays." This event involves members of all ages, working together on the second Sunday of each month to make 200 sack lunches for homeless men, women and children served by the Union Gospel Mission of Tarrant County.
EC Wichita Falls - Wichita County Action Network and Tiny Lending Library
The Episcopal Church in Wichita Falls helped establish two tiny lending libraries through the Little Free Library organization to share books with people in the community.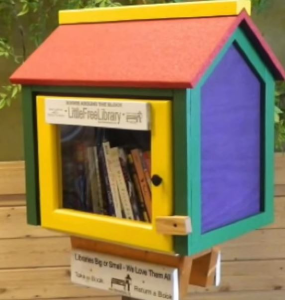 The Episcopal Church of Wichita Falls also assisted the Wichita County Action Network.
St. Stephen's - 6 Stones Back-to-School program
St. Stephen's received the following letter from 6 Stones related to the back-to-school program that members of St. Stephen's participated in and contributed to:
Thank you for your previous participation with 6 Stones Operation Back 2 School, supporting HEB ISO. Back to school is an exciting time for. children of all ages. While many children are eager to see their friends again, many families in our district worry about their inability to purchase all of the supplies their students will need for the next year. Parents who cannot afford the added expense of school supplies face a tough choice: equipping their children could mean sacrificing other basic household needs.

Because of your partnership with us to assist students in HEB ISO, we were able to provide backpacks and school supplies to 2,132 elementary and 1,875 secondary students in our community in 2015.

Over half of the children in HEB ISO rely on the free and reduced lunch program. For the 54% of students who struggle for access to meals school supplies are an even bigger ask~ This year, HEB ISO has challenged 6 Stones to provide more supplies than we ever have: supplies for 3,000 elementary students and 3,000 secondary students. This will not be easy, but we are confident that this community can bridge the gap for these families. Every $25 donation received for Operation Back 2 School sponsors one of those 6,000 students, ensuring that they won't have to go without.
St. Andrew's Cares
From the Rev. Eddie Barnett, St. Andrew's:
St. Andrew's Episcopal Church, Fort Worth was granted $486 in 2015 in support for outreach ministries. An extra expense that comes from mission and ministry with the retired community at The Stayton is a regular weekly worship and study. Worship supplies, study material, and transportation expenses are an extra budget burden. Mileage expenses alone amounts to $715/year. St. Andrew's is grateful for the diocesan grant that was decided by the Vestry to offset mileage expenses.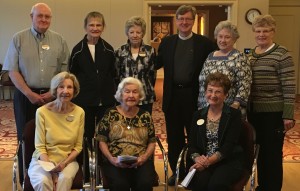 Barnett also wrote:
I have realized a need for something spiritual/faithful for a few groups I encounter about town. These are folk that do not attend St. Andrew's, and may never attend St. Andrew's, but they respond to my priestly presence for council, direction, and just a safe place to be. I never miss the opportunity to say something about God.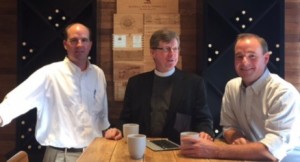 I have a couple of homebound that live at the Stayton. In conversation with the Stayton staff, it was realized that there was a need for some weekday ministry. As a result several of them have shared that they have no pastor, and have asked for pastoral care even though they are not of the Episcopal persuasion.
Projects outside the diocese
All Saints' - Amazing Grace Children's Home in Awasi, Kenya
A letter to the Chair and members of the Mission & Outreach Committee from the Rev. Chris Jambor:
Dear Dr. Stevens and Commissioners:

Thank you, once again, for the contribution of $985 to our parish's mission in Kenya. The funds were used for the ongoing support of our girls in Amazing Grace Children's Home in Awasi, Kenya.

Over the last 11 years, All Saints' has worked with her ministry partners in Kenya to begin, support, and expand Amazing Grace. We have purchased properties, built structures, expanded services, all while seeing to the health and welfare of our now 69 girls orphaned by A.I.D.S. Our current yearly support of the girls is $53,604. To this, we add expenses for those going on to colleges and universities, another $64,065 in 2015. We have sent several mission teams from All Saints' to Amazing Grace with at least one, and sometimes two, missions per year. This year I have already gone once in March and am returning in July. We keep very close contact with our mission interests in Kenya. Parish-wide, we have over 60 families who sponsor one or more of the girls of Amazing Grace.

Since we began this mission in 2005, here is a summary of our investment in Amazing Grace:

$638,595 Guest House: land, construction, and furnishings
$458,797 School: construction, furnishing, and books
$423,670 Support for girls
$306,882 Elementary/high school/college Tuition & Fees
$93,275 Utilities & Infrastructure
$30,000 Transportation
$24,047 Furnishings, cooking equipment, clothing, bedding
$8,000 Matron House
$7,652 Chickens & Chicken Coop
$3,872 Medical support/supplies
$1,850 Greenhouse

$1,996,640 Total Support through May 2016

As you can see, All Saints' Episcopal Church is heavily invested in this kingdom work. I would love to brief you, the Commissioners, and the bishop more about the work being done now and in the future at some time when convenient for you. I have also attached to this report a brochure for the Commissions' examination.

Again, thank you for your generous support!

Fr. Jambor
Read a recent newsletter with more details about the work going on at Amazing Grace, and visit the Amazing Grace website.
Read more about All Saints' foreign mission involvement in Belize and Kenya on All Saints' website
Trinity-Testing fees for Zambian students in CLASP speech therapy program
From Cindy Gill-Sams of Trinity, Fort Worth:
In most countries in the world, there is no such thing as speech therapy. Not in SOME countries – in MOST countries. Children who are deaf or who have a handicap are considered a curse, a burden on society, and something to be hidden away. People who have a stroke and lose their language are thought to have sinned or done some evil that brought God's wrath down upon them.

That is changing. Trinity Episcopal Church (Ft. Worth), in conjunction with the Diocese Outreach Impact Program and CLASP International, has been instrumental in the successful completion of a master's program in speech pathology that was transmitted to 18 Zambian students. Parishioners from Trinity have served as the Academic Director for the program and as teachers, and other parishioners have provided textbooks, therapy supplies, computers, and equipment.

Women of the church made over 500 hats to help premature babies keep warm – because they have no incubators.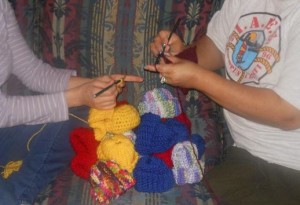 Members have held garage sales and donated time and money to help the students complete their degree.

On December 7, 2015, 18 graduate students received their Master's in Speech Pathology and have become the first Speech Therapists in the country of Zambia!

Real School!
Life is changing for some children, too. In front, sitting on the knee of Dr. Cindy Gill-Sams, is a young girl who was called "damaged" because she is missing 6 fingers. She was not allowed to go to real school until the Zambian graduate students (standing behind her) tested her and proved that she had normal IQ and language. Her schoolmates are beginning to think of her as just another little girl, not as "damaged."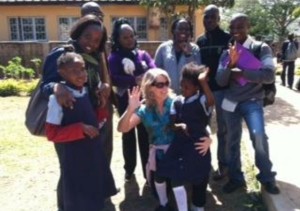 Self-Sustaining
The Diocese Outreach Impact Program is helping to make these efforts self-sustaining. In the Fall of 2015, they funded the required pre-entrance requirements for 5 of the graduate students in the hopes that one might be accepted to a PhD program here in the US. These application requirements included passing the Graduate Record Exam (GRE) and the Test of English as a Foreign Language (TOEFL). The Diocese Outreach Impact Program paid $2995 to cover the registration fees for the ten tests plus the cost of travel to the international testing centers. Two of the students have now been accepted by the University of Louisiana –Lafayette and will arrive in the US to begin classes in August, 2016. Trinity will assist with their flights and supplies.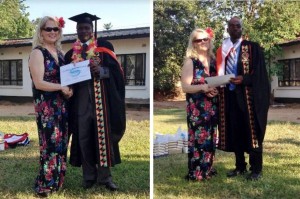 With some additional help, and by the grace of God, they will return to Zambia in three to four years to start Speech Therapy departments in Zambian universities. These will train future generations of Speech Therapists! One more country has joined the ranks of those who give a voice to the voiceless!
Good Shepherd-'Safeguarding' materials for Hogar Infantil in Chiapas, Mexico
From Leslie Guinn of Good Shepherd, Granbury:
Hogar Infantil used the grant money to purchase two copies of "Safeguarding God's Children", one in English and one in Spanish. The one in English is to be used by Hogar's American Board of Directors and will be a part of our annual meeting in July. Since we live in various parts of the country, this is the only time we are together. The Spanish version has been delivered to Hogar Infantil, Chiapas, Mexico. I know they were planning on showing it to the older children before many of them went to visit family for the summer break. All current employees and volunteers there have seen the program. Sexual abuse has struck so many of these young lives. Hopefully this is a tool for intervention. Hogar Infantil is grateful for the many gifts from the Diocese of Fort Worth.
The following video was shared at the 2015 Diocesan Convention to summarize the projects supported through Mission and Outreach grants.