Diocesan Library – You are welcome to check out educational resources from the diocesan library, located in the conference room of the diocesan offices. Call 817-534-1900 for more information or to ask whether we have a particular resource you're looking for.
Check out Lesson Plans that Work, an excellent resource of the Episcopal Digital Network.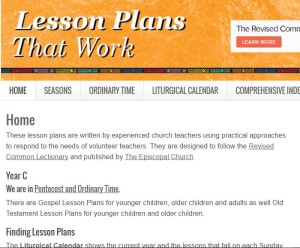 The Episcopal Church website's Library includes a variety of resources in several media. Use the "+Topics" menu to search by topic or look under "Resources" for bulletin inserts, a variety of documents, and links – you can then filter the list by key words to find something you're looking for.
You can also look under the "Ministries" tab to access resources produced by various ministries and departments within the church.
The Society of Saint John the Evangelist has some resources as well.
Resources by Age Group
Studying the Bible
Revised Common Lectionary – the cycle Episcopal churches and several other denominations use to read the Bible in a systematic way over a three year period.
Topical Studies
Seasons of the Church Year